The School for Good and Evil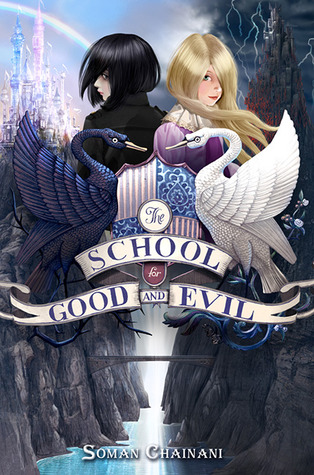 Author: Soman Chainani
Series: The School for Good and Evil #1
Publish Date: May 14th, 2013
Genre: Fantasy, Middle Grade
New York Times Bestseller * Indie List Bestseller * Soon to be a Film from Universal Pictures * A Barnes & Noble Best Book of 2013 * Waterstones Children's Prize Nominee * Children's Choice Reading List Selection
The first kidnappings happened two hundred years before. Some years it was two boys taken, some years two girls, sometimes one of each. But if at first the choices seemed random, soon the pattern became clear. One was always beautiful and good, the child every parent wanted as their own. The other was homely and odd, an outcast from birth. An opposing pair, plucked from youth and spirited away.
This year, best friends Sophie and Agatha are about to discover where all the lost children go: the fabled School for Good & Evil, where ordinary boys and girls are trained to be fairy tale heroes and villains. As the most beautiful girl in Gavaldon, Sophie has dreamed of being kidnapped into an enchanted world her whole life. With her pink dresses, glass slippers, and devotion to good deeds, she knows she'll earn top marks at the School for Good and graduate a storybook princess. Meanwhile Agatha, with her shapeless black frocks, wicked pet cat, and dislike of nearly everyone, seems a natural fit for the School for Evil.
But when the two girls are swept into the Endless Woods, they find their fortunes reversed—Sophie's dumped in the School for Evil to take Uglification, Death Curses, and Henchmen Training, while Agatha finds herself in the School For Good, thrust amongst handsome princes and fair maidens for classes in Princess Etiquette and Animal Communication.. But what if the mistake is actually the first clue to discovering who Sophie and Agatha really are…?
The School for Good & Evil is an epic journey into a dazzling new world, where the only way out of a fairy tale is to live through one.
---
Review
I was very very excited to read this one. It was a well-received break from all of the chick-lit and contemporary books I've been reading lately.
The School for Good and Evil was an interesting take on fairy tales and what might go into the creation of them in an alternate universe. I really liked it. It took a boarding school and fairy tales and put them together! How could I not like it?
I'm a sucker for books set in boarding schools. I might have bypassed this book if not for the fact that it revolves around oh what do you know? A boarding school. Nevertheless, the book had a very unique premise compared to other fairy tale books.
It begins with an introduction of our two protagonists, Agatha and Sophie. Sophie is a girly, pretty girl who believes that she'll be the next in line to be kidnapped to attend the School for Good and Evil. Agatha on the other hand, is an ill-tempered girl with a liking for frumpy black clothing. Many believe her to be the candidate for the evil school. A series of events occur in which the two are snatched, not going along the plan that had originally been laid out. The two's positions are switched, with Sophie entering The School for Evil and Agatha entering The School for Good. Agatha, determined to get her and Sophie home and away from the nightmare, begins formulating a plan to get them back to their beloved Gavaldon. From the beginning, anybody can tell that friendship will be a central idea of this book. I like that it had friendship as a bigger overarching theme than romance.
I liked this book right up until the last few chapters. Agatha was my favorite character from the beginning with her snarky, logical, anti-social personality. It was pretty clear who was evil and who was good even if the characters stubbornly refused to see it. But what annoyed me about the book was that in the end, Agatha changed from her personality. She was no longer the lovable, snarky girl that I had liked going into the book but instead, had become a little similar to the Sophie from the beginning of the book.
The romance was developed poorly. There was a total of two possible boys that Agatha and Sophie could have dated and one of them had a 0.000000000000000000000000000001% chance of actually getting the girl. So in  other words, there was a love square. Now where's the fourth person you may ask? Oh it's just Beatrix, another girl that happens to be at the school. So much of the romance is chalked up to the fairytale soulmate crap that there's absolutely no evidence of development between the characters. I expected that even though this was fairytale based book, that there would still be at least some development. Nope. One minute they're enemies, the next they're soulmates. The same lack of subtle development was seen in the way that Sophie became evil. I personally think that it would have better for small details and cracks in her persona to reveal the ugly personality she had inside. Just like the jumps from enemy to soulmate, Sophie jumps from nice to evil.
The ending was disappointing. It was rushed, felt disorganized, and lacked the compelling storytelling that the rest of the book had had. But I do feel that Chainani ended the book in a good place. It sets it up really well for a sequel.
In conclusion, Chainani wrote a unique book but executed it poorly. Development isn't executed well on all aspects from plot to his dynamic characters. Even so, I enjoyed reading this book and will definitely be picking up the sequel.
3/5 Stars