Isla and the Happily Ever After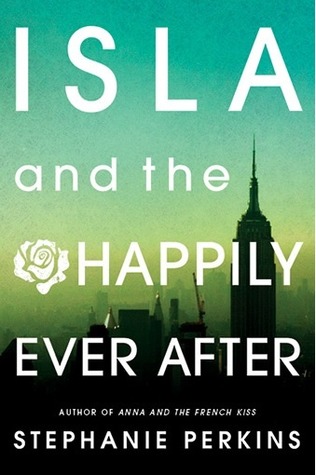 Author: Stephanie Perkins
Series: Anna and the French Kiss #3
Publish Date: August 14th, 2014
Genre: Chick-lit, Contemporary Romance
Love ignites in the City That Never Sleeps, but can it last?
Hopeless romantic Isla has had a crush on introspective cartoonist Josh since their first year at the School of America in Paris. And after a chance encounter in Manhattan over the summer, romance might be closer than Isla imagined. But as they begin their senior year back in France, Isla and Josh are forced to confront the challenges every young couple must face, including family drama, uncertainty about their college futures, and the very real possibility of being apart.
Featuring cameos from fan-favorites Anna, Étienne, Lola, and Cricket, this sweet and sexy story of true love—set against the stunning backdrops of New York City, Paris, and Barcelona—is a swoonworthy conclusion to Stephanie Perkins's beloved series.
---
Review
Isla and the Happily Ever After was easily my least favorite book in the series. At least with Lola, there were some aspects of the book that I liked. Sadly, this was not the case with Isla.
What I liked about the books before this, were the amount of growth that the characters had. Anna learned how to love and how to be more confident and understanding. Lola learned how to let go and accept what has happened in the past. Isla learned….. uh….. erm….. how to not be jealous of her boyfriend?
The entire plot of the book was boring. It was boring from the beginning to the end. The book had a bad case of insta-love, something that I will not accept in any books I read unless it's executed well. Obviously, in this situation, it was not.
The book opens up to the summer preceding their Senior year. Isla is eating with her best friend, Kurt, when she spots Josh, the object of her affection since freshman year, in the cafe. What ensues is a loopy conversation due to the painkillers she'd been on for the removal of her wisdom teeth. And from there, a story of love unwinds.
There was one huge difference between Isla and the other two books in the series. Isla and Josh are technically a couple before half of the book has even elapsed, which is completely different from the long amount of development Perkins took in the other books. What I didn't really like about this was that it didn't allow me to analyze and appreciate the relationship that the characters had prior to the start of dating. Isla and Josh's relationship is extremely rushed and consists of a lot of inane plot. As a result, in my opinion, they weren't characterized as well. The relationship felt cheap and manufactured. Kind of like one that wasn't formed because of chemistry or actual attraction, but of one of convenience. I really couldn't buy into their relationship whatsoever.
Isla pissed me off. She was whiny and always thinking about sex or her relationship with Josh. I'll remind you that they haven't even been dating a month. Just because Isla has crushed on him since freshman year does not mean that she knows him enough to engage in these type of actions in such a short period of time. Her character was so weak, so whiny, so dependent on others. The amount of times that I'd read about Josh and how she felt that he was perfect and amazing was annoying. There's also the tiny fact that she pretty much threw away her grades and friends after she started to date him. It's repeated numerous times in the book that she's really smart but then she doesn't have enough common sense to realize that boys aren't the only part of her life. I tried to love her, but I really just couldn't. The fact that the entire book was from her POV was what made this reading experience my least favorite out of all of the books.
Josh was slightly better, but not by much. I feel like his personality has changed a lot from the first book, which is understandable considering the circumstances he's gone through in the book. I didn't really like him as a character. Actually, I didn't really like anybody in this book as a character. They were characterized badly and the plot was slow and had no purpose.
There were some points I did enjoy though. Like Josh's art projects and the treehouse. I can only wish that I was that artsy.
2/5 Stars