The Monstrumologist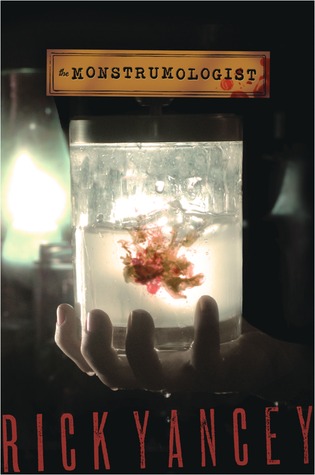 Author: Rick Yancey
Series: The Monstrumologist #1
Publish Date: September 22nd, 2009
Genre: Horror, YA, Paranormal, Historical Fiction
These are the secrets I have kept. This is the trust I never betrayed. But he is dead now and has been for more than forty years, the one who gave me his trust, the one for whom I kept these secrets. The one who saved me . . . and the one who cursed me.
So starts the diary of Will Henry, orphaned assistant to Dr. Pellinore Warthorpe, a man with a most unusual specialty: monstrumology, the study of monsters. In his time with the doctor, Will has met many a mysterious late-night visitor, and seen things he never imagined were real. But when a grave robber comes calling in the middle of the night with a gruesome find, he brings with him their most deadly case yet.
A gothic tour de force that explores the darkest heart of man and monster and asks the question: When does man become the very thing he hunts?
---
Review
Before I start this review, I have to say a few things regarding The Monstrumologist.
Firstly, I picked this book for a school book report and that I read it because every other girl in my English class was reading some sort of contemporary novel (and it was on my neverending to-be-read list). The next couple of posts on my blog will be related to this book because one of the options for the projects were to create a series of blog posts. They'll cover a variety of topics from symbolism, theme, to other aspects of the novel. Needless to say, there will most definitely be spoilers. I'll do my best to try to censor or warn but my teacher is going to read this so I'm sorry in advance if you get spoiled.
Maybe I'll turn this into a sort of book feature. "Deconstructing a Novel" or something like that.
But yes, onto the review.
I was so so so excited to read The Monstrumologist. It had been on my to-be-read list for a while and omigod the premise sounds amazing. It mixes historical fiction (which I love) and monsters and it sounded really good. And I'm happy that I picked this one. I really enjoyed reading The Monstrumologist but there were a few problems here and there that I had with it.
Obviously it's going to be completely fictional so any qualms I had about how realistic it would be flew out the window. Sure, I questioned the relationship between Will Henry and Dr. Warthrop (*cough child labor cough*) but in a world with monsters, why not?
It's classified as a horror novel, yet never once did I ever feel scared. The Anthropophagi are depicted as fierce, man-eating beasts with long claws, huge jaws, and the ability to jump forty feet high. While the monsters and setting are fantastically described, the mood and suspense fell flat. The mood did feel historic (as the book is set in the 1800s) but there was a noticeable lack of suspense and fear. In my opinion, had Yancey had this aspect, the novel would have been even better than it was. While this book was missing this one emotion, it did have some pretty gory scenes in which I felt disgust (reading about worms come out of some nasty sores? ew.)
Additionally, the book started to really drag about halfway through. It had already been a slow book but it had really start to become boring at this point. The Monstrumologist chronicles the entire Anthropophagi case, from the moment Will Henry and Warthrop discover the first death to the aftermath of the case. As a result, the moments that are less suspenseful and exciting became extremely slow and were the reason that it took me so long to finish it. Would it surprise you if I said that entire 450ish-page book happens over the course of 2ish weeks? It feels like their expedition would have taken so much longer when you read it but it's just how slow the plot progresses.
The characters are characterized very well. I have a love-hate relationship with Warthrop at the moment. I adore his eccentric personality but I hated some of the things he did and said to Will Henry. He was portrayed as a hard-working man that didn't understand people emotionally. His backstory did explain why he was like that though. His change over the course of the book was simply great. He grew to learn how to understand people a little more, especially Will Henry, and I enjoyed reading about the progression and changes in his character over the course of the book.
He had a catch-phrase which some people might have found annoying. Contrary to this, it made me smile every time I read it.
"Will Henry!" floated his call through the open basement door. "Will Henry, where are you? Snap to, Will Henry!" Page 38
The main character, Will Henry, is a 12-year-old boy, orphaned a mere year earlier. He has been taken in as Dr. Warthrop's apprentice and is the author of the journals. The book is entirely from his point-of-view. Will Henry was an interesting character. Although he isn't forced to stay with Dr. Warthrop, in fact, he's been asked many times during the book if he wants to live with a foster home instead, he stays with Dr. Warthrop for reasons unknown to the reader at the beginning of the novel. His reasons and desires for staying are complicated and also related to his back-story. While the writing and language is significantly more mature in terms of vocabulary and word choice than a 12-year-old would have, it can be attributed to the fact that these journals had been penned years after the incidents had happened. His character was also portrayed very well.
I wasn't satisfied with the ending. The epilogue felt rushed and cheesy compared to the rest of the book. It flashed back to the future, the same setting as the prologue, right after the man (he's unnamed in the book) has finished reading the journals. It was fine up until the last two pages. Then the events that transpire feel like a cop-out. Yancey ended it with a scene that felt unfinished and a quote! I would have been perfectly okay with it if there had been no prologue or epilogue. I felt that they didn't contribute to the story of Dr. Warthrop and Will Henry. The ending of the last chapter before the prologue felt like a more appropriate ending.
About halfway through the book, I realized that this was the same author that wrote The 5th Wave. While I haven't read that one yet, I've been hearing a lot of good things about it and after reading The Monstrumologist, my expectations have skyrocketed. I will be picking up the sequel, The Curse of the Wendigo as well.
4/5 Stars