Clockwork Angel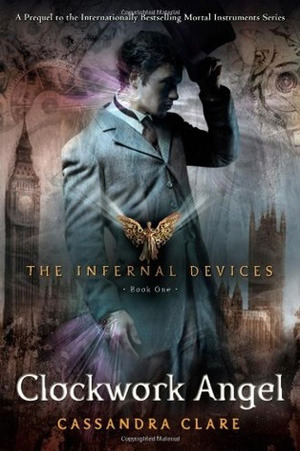 Author: Cassandra Clare
Series: The Infernal Devices #1
Publish Date: August 31st, 2010
Genre: Historical Fiction, Fantasy, Paranormal, YA
In a time when Shadowhunters are barely winning the fight against the forces of darkness, one battle will change the course of history forever. Welcome to the Infernal Devices trilogy, a stunning and dangerous prequel to the New York Times bestselling Mortal Instruments series.
The year is 1878. Tessa Gray descends into London's dark supernatural underworld in search of her missing brother. She soon discovers that her only allies are the demon-slaying Shadowhunters—including Will and Jem, the mysterious boys she is attracted to. Soon they find themselves up against the Pandemonium Club, a secret organization of vampires, demons, warlocks, and humans. Equipped with a magical army of unstoppable clockwork creatures, the Club is out to rule the British Empire, and only Tessa and her allies can stop them….
---
Review
Yes I DNF-ed this book. After hearing that The Infernal Devices series was better than The Mortal Instruments series, I read Clockwork Angel expecting it to be great. I read the first two books in TMI series but I never finished the third book. City of Glass was just boring and in the end, I had to return it to the library before I was finished. Naturally, I thought that I'd read TID since there are less books in the series and because the majority of the people who've read both series have said that they prefer this one over TMI.
I might as well have gone back to TMI because I really really hated Clockwork Angel. It was okay when I first started it. The historical-y old-timey speak was really pretentious but it was bearable. But then, I began to see the character of Tessa. And I hated it. I hated it with a burning, fiery passion. I dreaded the moment when I'd open the book again, hoping that some type of change would hit Tessa. Clearly, nothing really happened to her personality or else I'd still be reading the book. I swear, every time she opened her mouth to say something or think about how girls shouldn't do certain things I wanted to slap her. Oh you say that it's unladylike to read novels, but then you go and fangirl over other books that are clearly novels. I looked up these titles just to make sure too! The Woman in White is a mystery novel. Tessa was hypocritical and this really annoyed me.
OH BUT THEN. THEN WE MET THE OTHER CHARACTERS. I wanted to wring the necks of every character I'd meet and to be able to do that every time I read about some stupid action they did.
I struggled through 200ish pages of the book, realized that I wasn't even halfway through and after much consideration, decided that I wasn't going to spend any more of my time on it. Obviously, I wasn't going to begin to enjoy it anytime soon. Even though I had heard that it gets better, by that point, I was too done with the book to care. And thus, I decided to DNF Clockwork Angel.
I'm pretty positive that I'm not going to pick up another Cassandra Clare book after this. Malec is fabulous, but the books themselves aren't as great.