On the Fence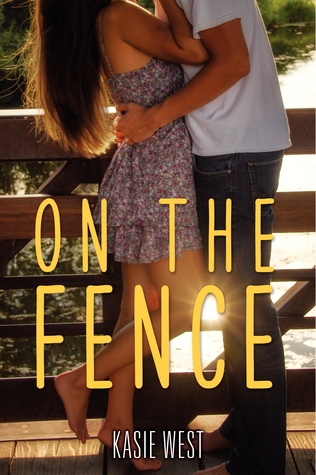 Author: Kasie West
Publish Date: July 1st, 2014
Number of Pages: 296
Genre: YA, Contemporary, Romance
For sixteen-year-old Charlotte Reynolds, aka Charlie, being raised by a single dad and three older brothers has its perks. She can outrun, outscore, and outwit every boy she knows—including her longtime neighbor and honorary fourth brother, Braden. But when it comes to being a girl, Charlie doesn't know the first thing about anything. So when she starts working at chichi boutique to pay off a speeding ticket, she finds herself in a strange new world of makeup, lacy skirts, and BeDazzlers. Even stranger, she's spending time with a boy who has never seen her tear it up in a pickup game.
To cope with the stress of faking her way through this new reality, Charlie seeks late-night refuge in her backyard, talking out her problems with Braden by the fence that separates them. But their Fence Chats can't solve Charlie's biggest problem: she's falling for Braden. Hard. She knows what it means to go for the win, but if spilling her secret means losing him for good, the stakes just got too high.
---
Review
On the Fence was really really sweet. I liked the idea of a tomboy trying to learn how to portray her emotions. It was pretty entertaining and a really good read.
I'm not really sure if I like the plot or not. At times, I like how simplistic it is, but other times, I'm kind of just waiting for something to happen. It feels aimless, but I suppose that it might just be because of the fact that the book is literally a story about Charlie's summer and how she learned to be confident about herself. It's pretty much your standard "best-friends to boyfriend" type book. Even if it was really cute, I found it a little cliche. In addition to this, I had expected this book to be a cute romance-y book but then there was a huge reveal towards the end of the book that I didn't expect at all. It was angsty and sad, a far cry from the rest of the mellow story.
Charlie is a total tomboy and doesn't really understand how to portray her emotions. I really really wanted to like her character but I personally found her a little… er. shallow should I say? She's not actually nearly as shallow as a lot of characters but I didn't really like her voice (in the book) that much. I did find her awkward attempts at being girly kind of sweet.
I believe that every girl has a little bit of girlyness within them that they can tap into if they feel like it.
I really really liked some of the relationships in On the Fence. Charlie's relationship with her brothers, specifically Gabe, were really great. And what made me really laugh was at the end when a bunch of guys were asked if they would have dated Charlie had her brothers not threatened them. Stuff like being overprotective, competitive, teasing her, bets, it was all what made these relationships enjoyable.
However, although this book focused on how Charlie tried to act more feminine (and eventually learns that she doesn't have to pretend like someone she isn't to get boys to like her), I felt like she never once made that connection with the girls. It's written to be as such, but even so, I felt like Charlie was cut off from everything.
I loved the interactions between Charlie and her beau Braden. Their fence talks have to be some of the cutest things ever and the way they finally get together breaks all of the sexual tension that they have. (This isn't a spoiler. Let's be honest, the cover shows the two of them kissing.)
3/5 Stars