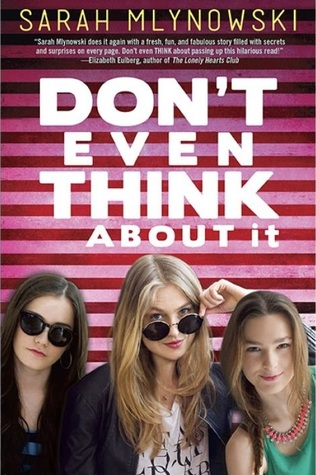 Author: Sarah Mlynowski
Series: None
Publication Date: March 11th, 2014
Publisher: Delacorte Press
Number of Pages: 336
Genre: YA, Contemporary, Fantasy (?), Sci-fi
Source: Library
Links: Goodreads | Amazon | The Book Depository
Summary
Contemporary teen fiction with romance, secrets, scandals, and ESP from the author of Ten Things We Did (And Probably Shouldn't Have).
We weren't always like this. We used to be average New York City high school sophomores. Until our homeroom went for flu shots. We were prepared for some side effects. Maybe a headache. Maybe a sore arm. We definitely didn't expect to get telepathic powers. But suddenly we could hear what everyone was thinking. Our friends. Our parents. Our crushes. Now we all know that Tess is in love with her best friend, Teddy. That Mackenzie cheated on Cooper. That, um, Nurse Carmichael used to be a stripper.
Since we've kept our freakish skill a secret, we can sit next to the class brainiac and ace our tests. We can dump our boyfriends right before they dump us. We know what our friends really think of our jeans, our breath, our new bangs. We always know what's coming. Some of us will thrive. Some of us will crack. None of us will ever be the same.
So stop obsessing about your ex. We're always listening. (more…)