84 Ribbons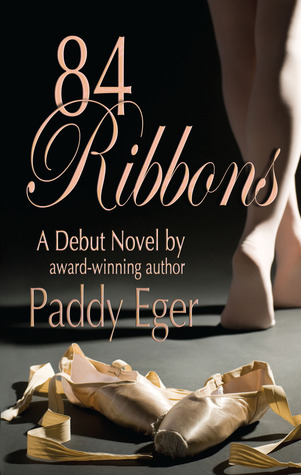 Author: Paddy Eger

Series: None
Publication Date: December 17th, 2013
Publisher: Tendril Press
Number of Pages: 345
Genre: YA, Fiction
Source: Netgalley
Links: Goodreads | Amazon | The Book Depository
---
Summary
The Debut novel by award-winning author Paddy Eger
A young dancer's realizes her life long dream, if only for a while.
Seventeen year old Marta Selbryth realizes her dream of becoming a professional dancer when the Intermountain Ballet Company in Billings, Montana invites her to join their 1957 season. As Marta's new life unfolds, she must learn to face not only the successes of dancing in the corps de ballet, but the challenges and setbacks that might crush the dream she's had for so long.
After a couple of mishaps, Marta settles into life in a boarding house located near the ballet company. Her landlady, Mrs. B., is friendly, reduces her rent when Marta's offers to bake for the boarder and later allows her to use the basement as a practice studio. The two male boarders are supportive; Carol, a fellow boarder, ignores her.
Marta spends her free time practicing when she's not spending time with her new friends Lynne and Bartley, her fellow corps dancers. Their time together becomes an important lifeline through their first year.
Madame Cosper, the artistic director, is a demanding woman. Marta begins their association poorly when she makes a disastrous choice. Expecting expulsion, Marta receives a second chance in the form of dancing the unpopular character roles during the fall and winter performances. Marta determines to dance every role with confidence in hopes of proving to Madame that she's up for every challenge.
Steve, a young college man and a reporter, spots Marta when he's assigned to write an article about ballet for the local paper. He's attracted to her and begins his pursuit. Over the months ahead, he becomes her tour guide of the area and attempts to convince Marta to be his girl. But her steadfast focus is ballet and some of her adventures with him lead to problems with Madame Cosper.
Shortly after Christmas, everything changes for Marta, Bartley and Steve. Significant events permanently influence their lives. Each must deal with exhilaration and heartbreak as well as frustration and changes that test their ability to cope.
---
Review
This could technically be a DNF review but I ended up skimming the last hundred or so pages so I knew how it ended.
Three words to describe this book. Monotone. Tedious. Boring. Everything is awash with superfluous descriptions of Marta's daily life and activities.
The book is, in short, a fantastic description of every menial task a person will perform in a day.
Want to know what Marta does when she wakes up? How about every single freaking date that she has with Steve? What about her dinner? What about the amount she sews? You get everything and it's too much.
Marta is without a doubt, the most flat character I have ever read about. I can't even begin to try to describe her well because I have no concrete idea of what her personality is like. I can try with the words whiny, weak, and defensive. But her solution to everything is to whine, rock, cry, or starve herself. She isn't realistic in any way. She doesn't act like a teenager chasing her dreams. The love interest, Steve, is the same in terms of development. He's portrayed as a Gary Stu, a "perfect" boyfriend that Marta can't accept.
They have no chemistry. The entire time I was reading the book, they felt more like acquaintances than anything else.
The dialogue is also extremely unrealistic.
Clearly, this is a book about anorexia and the hardships of a "professional" ballet dancer (Marta is NOT a pro). But everything is glossed over. The blame for Marta's struggles in the dance company is placed on Madame, a lady who is strict and gives Marta the character roles (often comedic roles with more acting than dance). Apparently Marta thinks that she can waltz into the studio and get a solo. I think not. Her anorexia is treated as no more than a fit or a refusal of food. I never felt the desperation of losing weight or always feeling like you aren't good enough. By the end of the novel, the focus wasn't on dance, but on Marta's struggles with anorexia. The problem with this is that this part of the plot was already flimsy.
I also feel like this isn't an accurate portrayal of dancers. I guarantee you that I haven't met a single person who substitutes derriere for butt in everyday conversation. Some of the ballet technique was also wrong although I will credit Eger with the correct use of the terms. However, the idea that 84 ribbons is enough to get a solo is also laughable.
84 Ribbons = 21 Pairs of pointe shoes
The # of pairs of shoes a ballerina will go through in one year at a pro studio = 21+ pairs of point shoes
Let's be honest. Some professional dancers go through 1-2 (or more) pairs a week. Multiply that by four and they use anywhere from 4-6+ pairs per month. Divide 21 by that and you get 4-5 months. There is no way that a corp newb would get a solo in half a year or less.
My face when I read that 84 ribbons equated a solo.
Rookie dancers almost never get solos within a year of dancing in the corps. The industry just isn't that easy.
1/5 Stars