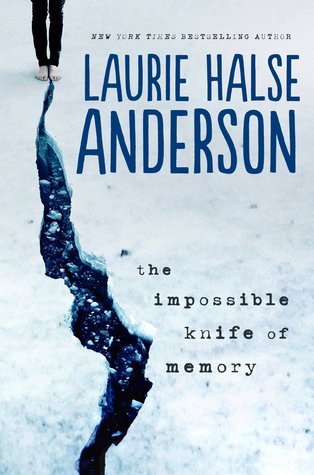 Author: Laurie Halse Anderson
Series: None
Publishing Date: January 7th, 2014
Publisher: Viking Juvenile
Number of Pages: 391
Genre: Contemporary, Realistic, Romance
Source: Library
Links: Goodreads | Amazon | The Book Depository
Summary
For the past five years, Hayley Kincain and her father, Andy, have been on the road, never staying long in one place as he struggles to escape the demons that have tortured him since his return from Iraq. Now they are back in the town where he grew up so Hayley can attend school. Perhaps, for the first time, Hayley can have a normal life, put aside her own painful memories, even have a relationship with Finn, the hot guy who obviously likes her but is hiding secrets of his own.
Will being back home help Andy's PTSD, or will his terrible memories drag him to the edge of hell, and drugs push him over? The Impossible Knife of Memory is Laurie Halse Anderson at her finest: compelling, surprising, and impossible to put down.
---
Review
Yet again, Anderson has chosen to cover a rather controversial topic, PTSD. This time, she has decided to add something that is unusual in her writing. Romance. Although I have not read nearly enough books to see this as a trend, I've read numerous sources that explicitly state that this time, Anderson sought to write a romance.
The Impossible Knife of Memory was a very mellow read, considering the topic it covered. However, I did not mind this, unlike other readers. I liked the idea that Hayley was trying to find joy and happiness in love and friends (although, all the while, she pushed it away), rather than just being fixated on her father's PTSD.
Hayley was a really great character. She has a lot of depth and complexity due to her history of having a father with PTSD. Her character changed quite a bit throughout the book as more and more of her was revealed through the cracking of her memories. She begins as a closed-up tough girl but ends up as an open and vulnerable character. The way that she slowly became less and less stable was something that I truly enjoyed.
Finn was adorable. He was so dorky and great. However, I felt like the romance was way too rushed. I barely even knew who Finn was when he first asked her out. I knew he was the pushy newspaper editor and that he called Hayley "Miss. Blue" but besides that, I honestly knew nothing else. I found that by the end of the novel, it was about the same way. I wish there had been more insight into Finn's backstory. There was some, but personally, I would have liked to hear more about it.
This did not detrimentally influence my enjoyment of the novel though. It was about Hayley and how she improved. Not every single other character. So I can understand why Anderson chose not to focus on the problems of other characters.
On the other hand, a whole lot of nothing happens in this novel. I can't even begin to recall some of the events because quite a bit of it was mundane descriptions of every day school life. The climax was amazing though. I read the first few words and ohmigosh I suddenly began to yell at the book. It was definitely my favorite part of the novel but it's situated at the very end. You have to trek through pages and pages of less interesting events first (Which by the way, was not all bad. I thought that some of it was crucial to really understand the characters at the end).
But let us speak of the epilogue/last chapter.
While reading, I was of the opinion that Hayley was a quite refreshing narrator in the respects that she felt realistic. She was grumbly and vulnerable and real. But the last chapter, which was really happy, felt as if a different person was speaking. What made Hayley more likable was replaced with a fake, caricature of what a "healed" person was like. It felt disorganized and distinctively not Hayley.
Either way, The Impossible Knife of Memory was my first experience with a novel that covered PTSD and one that I enjoyed, even with the pacing problems and such.
3/5 Stars