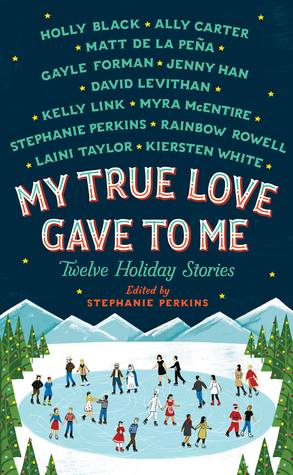 Author: Various
Series: None
Publication Date: October 14th, 2014
Publisher: St. Martin's Press
Number of Pages: 320
Genre: YA, Contemporary, Fantasy
Source: School library
Links: Goodreads | Amazon | The Book Depository
---
 Summary
If you love holiday stories, holiday movies, made-for-TV-holiday specials, holiday episodes of your favorite sitcoms and, especially, if you love holiday anthologies, you're going to fall in love with MY TRUE LOVE GAVE TO ME: TWELVE HOLIDAY STORIES by twelve bestselling young adult writers, edited by international bestselling author Stephanie Perkins.
---
Review
I knew this was going to be a mix of stories I liked and didn't like. I can't really complain about insta-love because that's what most of these stories are going to be. Since there are multiple stories, I will review each separately.
But if you don't want to read through every single story review, I'll include a short summary of the final verdict at the end.
Midnights: Rainbow Rowell
Fun and very cute although I found that it was sort of confusing in the beginning. That just might be my habit of disregarding subtitles. The protagonist is kind of flat at times and I didn't really like her but she and Noel were a great couple. Noel was so adorable! And I don't know how Mags did it, but I would never have the patience to wait so many years like she did.
Favorite Scene: Any time they made references to Noel's innumerable allergies XD
3.5/5 Stars
The Lady and the Fox: Kelly Link
Not my favorite out of all the short stories. It's kind of weird and the whole relationship felt pedophilic (is that even a word?). The generation gaps between the two characters made me uncomfortable and the way that Miranda acts in response to him makes me feel like she should be checked into a mental asylum asap. She felt lifeless and zombie-like to me (Or in other words, really flat). It does get better at the end though.
Favorite Scene: None. The whole story made me feel kind of awkward.
2/5 Stars
Angels in the Snow: Matt de la Peña
I loved this one. Super cute and I loved Shy's voice (I could imagine him as a real person). It was funny and really sweet. He took a simple idea and spun a really well done story. Both characters were well characterized and likable. And I totally knew that Haley lied about her lack of hot water.
Favorite Scene: When Shy tries to fake his ability to fix pipes or when he takes his beanie off.
4/5 Stars
Polaris is Where You'll Find Me: Jenny Han
I didn't like this one at all. I found it downright odd and Natty was too childish. She annoyed me. The entire story just wasn't very memorable to me, which is really strange because theoretically speaking, this short story was one that had a unique setting. It's the only one set in the North Pole. I think it was just the fragmented writing style that I didn't like.
Favorite Scene: Last one when Flynn gives Natty the number of the boy.
1/5 Stars
It's a Yuletide Miracle, Charlie Brown: Stephanie Perkins
Really really cute! While I don't really like the name "Marigold" (Okay I don't really like any name related to flowers), the story itself was really fun. But I felt like Marigold forgot what her original motive had been because it doesn't really mention it until the very end. But this didn't really bother me.

3.5/5 Stars
Your Temporary Santa: David Levithan
I spent the first few pages trying to figure out what gender this narrator was (I think he was unnamed. I don't remember and I can't seem to find a place where it mentions him by name, if it even does). My guess was a boy, because the voice seemed more masculine (though it wasn't by much) and I didn't want to jump to conclusions about it being a straight or homosexual relationship. But once I was past that, the story got better. It's definitely one of the simpler stories; the plot is limited to a Jewish boy being convinced to dress up as Santa for his boyfriend's sister. There was some humor that I adored with my favorite quote being this:
"In the end, it was the neighbor boy who gave me the information I needed to expose the truth. Our conversation went something like this:

Him: "Santa's other name is Saint Nick."
Me: "Saint Nick Claus?"
Him: "No. Just Saint Nick. For Saint Nicholas."
Me: "But aren't all saints dead? Like, if Santa Claus is a saint, doesn't that mean he's dead?"

I could see the truth hitting him. Then he burst into tears."
I burst out laughing when I read that. It was the highlight of the story.
Otherwise, the story was kind of boring even if I found it really sweet. It was some guy sneaking around and convincing a girl that he was Santa. He was awkward and snarky. There is the addition of his boyfriend's, younger, much sassier sister (who, by the way, I really liked).
I liked how Levithan hinted at their backstories. It didn't just feel like a holiday story, but a Christmas plucked out of a timeline of a family's life. There were references to outside events.
Favorite Scene: The one mentioned above
3.5/5 Stars
Krampuslauf: Holly Black
Really really strange.
I think she dates… a satyr/faun? I'm not even sure. I was just so confused by this particular story in general. There were large time skips that had really bad transitions and the main setting is a party. There isn't much of a plot.
Favorite Scene: The confrontation about how one of the characters cheated on his girlfriend.
2/5 Stars
What the Hell Have You Done, Sophie Roth?: Gayle Forman
This one wasn't really my cup of tea. It wasn't really bad but I didn't really like the narrator. I thought the couple was rather cute but I found the story kind of bland. It was sweet but not the most memorable.
Favorite Scene: Honestly? I have no clue.
3/5 Stars
Beer Buckets and Baby Jesus: Myra McEntire
I don't even know why, but I really liked this one. It was a little disorganized but it was really adorable! The narrator, Vaughn had a lot of character development. You end up learning that he isn't a bad person but his pranks are to catch Gracie's attention. It kind of reminded me of The Best Christmas Pageant Ever, a Christmas book my 3rd-grade teacher read aloud to everybody.
Favorite Scene: When it starts to talk about how he combined elements to make the show work. Efficiency at it's finest.
3.5/5 Stars
Welcome to Christmas, CA: Kiersten White
Definitely one of my favorites. I wasn't expecting too much from this story after reading In the Shadows but I was pleasantly surprised. I loved the waitress/chef romance and the way that it addressed female power, domestic abuse, and other problems. White fit a lot of different elements into thirty pages. The characters were all fleshed out and I loved how Ben's character made the diner feel kind of whimsical and happy.
Favorite Scene: When her step-dad reveals to her mom that he has been trying to learn Spanish for them. Seriously the sweetest thing ever.
4/5 Stars
Star of Bethlehem: Ally Carter
I'll suspend my disbelief for this one for a while because I just don't understand how this would have feasibly worked in real life.
So some foreign girl makes the protagonist switch airplane tickets with her. Interesting idea but what about these people's parents? Feels sort of rushed (it covers like two months in a span of 30 pages) but not too bad.
Favorite Scene: When she has to act like she knows the rituals of an Icelandic holiday and she epically fails.
3/5 Stars
The Girl Who Woke the Dreamer: Laini Taylor
Very interesting idea although the style of writing makes the reader feel distinctively detached from the protagonist. There's very little dialogue and most of the narration is written in a way that it feels kind of like a legend or myth. This story reminded me of arranged marriages although the girls had more freedom regarding who they were to marry. I admit that at times it's really confusing and boring though.
3/5 Stars
---
Overall, the book was really fun to read! Even if at times I didn't feel like it was great in terms of story structure or technical details, it was a really really enjoyable book! Most of the stories were really entertaining and I almost always loved each couple. It's also really fun to try to match up each story with it's corresponding couple on the cover.
 Average Score: 3/5 Stars