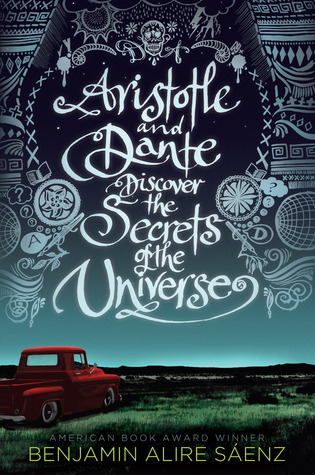 Author: Benjamin Alire Sáenz
Series: None
Publication Date: February 21st, 2012
Publisher: Simon and Schuester Books for Young Readers
Number of Pages: 359
Genre: Contemporary, Historical, LGBTQ, Romance, YA
Source: Public library
Links: Goodreads | Amazon | The Book Depository
---
Summary
A lyrical novel about family and friendship from critically acclaimed author Benjamin Alire Sáenz.
Aristotle is an angry teen with a brother in prison. Dante is a know-it-all who has an unusual way of looking at the world. When the two meet at the swimming pool, they seem to have nothing in common. But as the loners start spending time together, they discover that they share a special friendship—the kind that changes lives and lasts a lifetime. And it is through this friendship that Ari and Dante will learn the most important truths about themselves and the kind of people they want to be.
Review
Aristotle and Dante was…. actually really fun to read. I didn't realize it was a historical fiction novel until the New Year's scene but that's okay.
The friendship was exquisitely written. The idea that two people could meet so simply and become friends just like that. Wow I want something like that to happen. Their interactions and everything were so warm and well done. It was probably my favorite thing about this book.
The other thing is that the book reminded me a lot of John Green's style. Usually John Green's books and writing give me this distinct "no go away" emotion but I was pleasantly surprised when this book didn't make me recoil in disgust. Aristotle had a much-more toned down pretentious voice. I highly doubt that a teenager would actually think that way, but it didn't bother me nearly as much as a John Green book usually does. It did make Ari feel a little aloof though.
Speaking of John Green's writing style, I found that there was a lot of repetition in this book. Repeated phrases in dialogue from characters back and forth reminded me of the "Okay? Okay." thing from The Fault in Our Stars. Except it was kind of more annoying because it wasn't just one phrase but many. On top of this, at times I found it difficult to distinguish between which character was speaking because of the complete lack of tags. It would be pages of straight dialogue and I'd lose track of who's talking because it sounded the same.
The romance was done kind of shabbily.
(Highlight to see spoiler)
At the very end about when there is ten pages left, Ari's parents sit him down at a table and literally say to him, "Son. You're gay. You love Dante because you sacrificed your safety for him and beat up those thugs." And Ari accepts it.  He didn't ever get the internal struggle with who he thought he really was. He never really gave me the feeling that he even liked men. It felt like he accepted it because his parents told him, not because he actually did. It really bothered me. It felt unrealistic and a big excuse for what his realization should have been like. It was a really big WTF moment for me because the information is kind of kicked to the readers at the very end. There was no foreshadowing or anything. Really rushed. Nowadays, self-sacrifice and protectiveness can be associated not only with love, but also with friendship and family.
Aristotle and Dante were both characterized very very well. Their emotions and personalities were the only complex ones in the whole novel besides Aristotle's parents. Other characters could have been described more, but I didn't think it was as important to the plot.
What made me like this book more than other books of similar styles was that I felt like I could connect with Aristotle a lot more. His self-doubt and desire to know more about himself and his family is something that I too have wondered. I've heard that others couldn't, but it was really easy for me.
Overall, this novel is a great book to read in the summertime. The lazy mood perfectly encompasses long hot summer days. There is an amazing use of mood to portray the difference between summer and the school year.
3.5/5 Stars