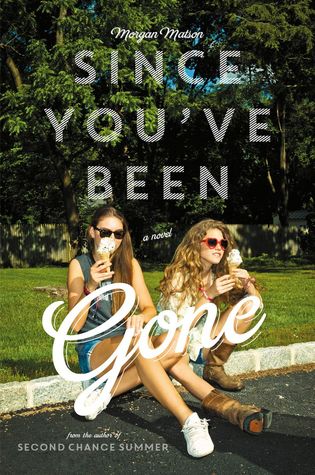 Author: Morgan Matson
Series: None
Publication Date: May 6th, 2014
Publisher: Simon & Schuster
Number of Pages: 449 Pages
Genre: Contemporary, YA, Romance
Source: Gifted
Links: Goodreads | Amazon | The Book Depository
---
 Summary
The Pre-Sloane Emily didn't go to parties, she barely talked to guys, she didn't do anything crazy. Enter Sloane, social tornado and the best kind of best friend—the one who yanks you out of your shell.
But right before what should have been an epic summer, Sloane just… disappears. No note. No calls. No texts. No Sloane. There's just a random to-do list. On it, thirteen Sloane-selected-definitely-bizarre-tasks that Emily would never try… unless they could lead back to her best friend.
Apple Picking at Night? Okay, easy enough.
Dance until Dawn? Sure. Why not?
Kiss a Stranger? Wait… what?
Getting through Sloane's list would mean a lot of firsts. But Emily has this whole unexpected summer ahead of her, and the help of Frank Porter (totally unexpected) to check things off. Who knows what she'll find?
Go Skinny Dipping? Um…
---
Review
This book was just waiting to be read.
I. Loved. This. Book.
I love bucket lists. I love independence. I love the idea of a girl gaining confidence through accomplishing tasks on a list. I love weird challenges like the ones on the list.
This book was like made for me and I'm just so happy I finally got to read it.
This was such a fun read. It's super light and fluffy and beautiful and happy. Oh it made me SO happy over winter break. I finished the book with this obnoxiously large smile on my face and then I spun around and hugged it and went to fangirl to my mom. She thought I was crazy.
But Since You've Been Gone hit the spot for me. The characters were really well done. I loved all of them and they each had their own flaws. Frank, Dawn, Collins, Beckett, Sloane, and Emily, the protagonist. Each was exquisitely realistic and fantastic representations of real people.
The thing that shone in this novel was the theme of friendship.
Sloane and Emily have a pretty cliche friendship. One is the loud, confident girl and the other is the quiet, shy one. The same holds true for this book but I actually really liked both characters. On the surface, it doesn't seem like the characters are too complicated, but the more you read, the more is revealed. You learn that someone is insecure or that somebody hurts so much they cope a certain way. Each event and scene is carefully crafted to show something about the characters. The changes and realizations in the whole book are what gave the book it's appeal. It's not just Emily that changes by the end.
Personally, I could connect really easily with Emily. I understood how she felt about not fitting in or feeling like you aren't brave enough to try something. Her journey and fight to improve herself was something that I truly hope to experience one day.
There were certain aspects of the plot that I found really predictable. For instance, I figured out why Sloane had disappeared and what Frank had really done when he went to visit his girlfriend. Sometimes the predictability of the plot would reel me out of my reading zone which was kind of disappointing. The overused plot points (mainly in the romance) were the only problem I really had with the book.
But I can say that Since You've Been Gone definitely deserves all the hype it gets. It's easily become one of my favorite contemporaries (it's up there with Jellicoe Road). There are these song playlists that Emily and Frank create for their jogs that I will get around to listening to at some point.
*Flits off to fangirl some more*
5/5 Stars