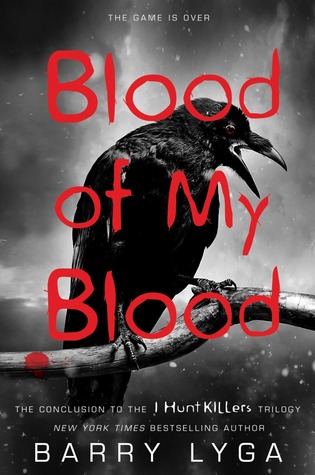 Author: Barry Lyga
Series: Jasper Dent #3
Publication Date: September 9th, 2014
Publisher: Little Brown
Number of Pages: 464
Genre: Thriller, YA, Mystery, Action
Source: Public library
Links: Goodreads | Amazon | The Book Depository
---
Summary
Jazz Dent has been shot and left to die in New York City. His girlfriend Connie is in the clutches of Jazz's serial killer father, Billy. And his best friend Howie is bleeding to death on the floor of Jazz's own home in tiny Lobo's Nod. Somehow, these three must rise above the horrors their lives have become and find a way to come together in pursuit of Billy. But then Jazz crosses a line he's never crossed before, and soon the entire country is wondering: "Like father, like son?" Who is the true monster?
The chase is on, and beyond Billy there lurks something much, much worse. Prepare to meet…the Crow King.
---
Review
Well that was an anticlimatic ending to the series.
This is kind of disappointing to be honest. After two fantastic books, the series flatlines into a slow, somewhat dull finale. It's not a bad book, it's just not as great as the last book should be.
I'm underwhelmed and a little ashamed to say that I was actually happy that the book ended. I was just a little disappointed with where the novel went. I wanted more blood.
In the beginning, I was very happy with the book. There's a badass escape and you figure out some important information. It's just when it starts to repeat over and over that it gets kind of boring.
Obviously there's less action in this novel. It's not like it's gone, but there is a lot less suspense. The ending was pretty good but it didn't pack a punch at all. Lots of jaw-dropping information is revealed. It just doesn't have the effect that it should have had.
I was annoyed with Jazz in this book. He was the charming, tortured soul in the first two novels but I found him downright annoying in this novel. He has really great character development. He has become fixated on the safety of his mother and it is the only thing that keeps him sane. He is this close to becoming a sociopath and much of the book is spent on the "is it gonna happen or not" aspect. I gets a little redundant.
Connie on the other hand, felt absolutely useless in this book. After a fourth of the novel, she's been pushed to the background of the book due to an injury. This has both good and bad repercussions. In a bad way, I felt like she was weak and useless. But at least it allows for Lyga to focus on the conflict with Jazz. And wow it was complicated.
Lyga skillfully uses red herring and small clues to help propel the story along. Which was desperately needed. As good as the book was, it still wasn't the best out of all of the books.
I don't know if it's my sadistic side, but I enjoyed reading about the violent killings and investigations more than I did about Jazz's fucked up family. The Crow King is revealed and more importantly, Billy Dent's childhood is revealed. As a fan of the series, I liked learning about it, but I much preferred the crime aspect.
Well at least I know I like crime novels now.
3.5/5 Stars