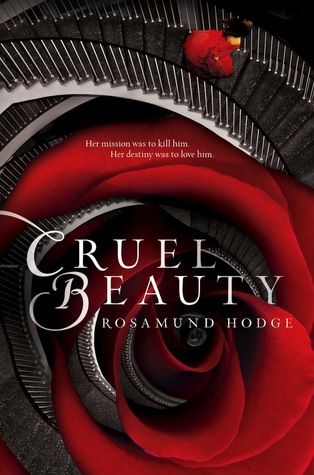 Author: Rosamund Hodge
Series: At the moment, none
Publication Date: January 28th, 2014
Publisher: Balzer + Bray  
Number of Pages: 342
Source: Library
Genre: Retelling, Fantasy, YA
Links: Goodreads | Amazon | The Book Depository
---
 Summary
Graceling meets Beauty and the Beast in this sweeping fantasy about one girl's journey to fulfill her destiny and the monster who gets in her way-by stealing her heart.
Based on the classic fairy tale Beauty and the Beast, Cruel Beauty is a dazzling love story about our deepest desires and their power to change our destiny.
Since birth, Nyx has been betrothed to the evil ruler of her kingdom-all because of a foolish bargain struck by her father. And since birth, she has been in training to kill him.
With no choice but to fulfill her duty, Nyx resents her family for never trying to save her and hates herself for wanting to escape her fate. Still, on her seventeenth birthday, Nyx abandons everything she's ever known to marry the all-powerful, immortal Ignifex. Her plan? Seduce him, destroy his enchanted castle, and break the nine-hundred-year-old curse he put on her people.
But Ignifex is not at all what Nyx expected. The strangely charming lord beguiles her, and his castle-a shifting maze of magical rooms-enthralls her.
As Nyx searches for a way to free her homeland by uncovering Ignifex's secrets, she finds herself unwillingly drawn to him. Even if she could bring herself to love her sworn enemy, how can she refuse her duty to kill him? With time running out, Nyx must decide what is more important: the future of her kingdom, or the man she was never supposed to love.
---
Review
Cruel Beauty was an interesting retelling of Beauty and the Beast with the addition of Greek mythology. I didn't know if it would work or not, but clearly it did because I enjoyed this novel quite a bit.
I think the thing I liked the best about this book was how unique it was. It was clearly a Beauty and the Beast adaptation (sort of), yet it didn't feel like it. It was refreshing and new, not like the old retellings I've read.
Our protagonist is fantastic. She's badass and has a lot of internal character conflict. She's both strong and weak and has human moments. She's not a sickeningly sweet character and she never acts as if she is superior. I loved reading from her point-of-view although I do admit that at the beginning, I found her really annoying.
Cruel Beauty had a really unorthodox love triangle. There is the ghostly slave, Shade, and the "evil", beguilingly charming demon prince, Ignifex. Who shall she choose?
Okay now I know I said I loved Nyx's character literally two paragraphs ago but this is where I thought it was a little weird. The love triangle was well done… for the most part, but it also did a great job of undermining the believability of Nyx's character. We're shown a strong, confident character that secretly hides her emotions. She has hidden them for years from her twin sister and family. She isn't quick to trust and more importantly, isn't one to fall in love at first sight. I swear! There's instalove with both love interests and Nyx's mooning is so so different from the rest of her. She knows that she will probably "never find true love" (pft yeah right) and that she will logically think through things. Well, as soon as she met Shade and Ignifex, that facet of her personality kind of… well… died. But again, like stated, even if she's a little flawed (and who isn't?), her character was still really great to read from.
The thing I had some problems with was the plot. Most of it is Nyx's life within Ignifex's house and how she journeys through the rooms. There is some action towards the end, but not as much as I thought there would be. I mean, Nyx is practically introduced as an assassin! It's reaaaalllllly slow for much of the beginning and I still don't understand some of the mythology. I get enough of it to enjoy the novel, but not enough to say that I'd be able to remember all of it, especially since it's been a good two weeks since I've read it. Even with this lack of clarity (which I suspect would be easily cleared up with a reread or prior knowledge), the plot is complex and interesting. It reads like a myth or tragic love story. There are  internal and external conflicts that bring flavor to the story, as well as the ever-present constraints of their world.
I found the ending highly unsatisfactory. I am in desperate need of a sequel and I'm 99% sure that I'm not going to get one.
4/5 Stars