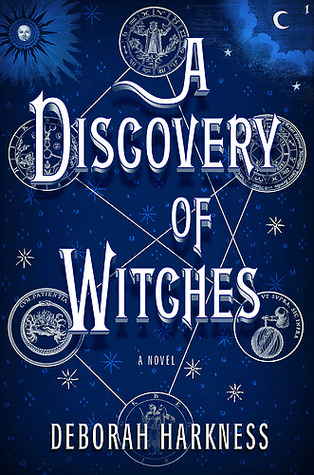 Author: Deborah Harkness
Series: All Souls Trilogy #1
Publication Date: February 2011
Publisher: Viking Penguin
Number of Pages: 579
Genre: Fantasy, YA, Romance
Source: School library
Links: Goodreads | Amazon | The Book Depository
---
Summary
A richly inventive novel about a centuries-old vampire, a spellbound witch, and the mysterious manuscript that draws them together.
Deep in the stacks of Oxford's Bodleian Library, young scholar Diana Bishop unwittingly calls up a bewitched alchemical manuscript in the course of her research. Descended from an old and distinguished line of witches, Diana wants nothing to do with sorcery; so after a furtive glance and a few notes, she banishes the book to the stacks. But her discovery sets a fantastical underworld stirring, and a horde of daemons, witches, and vampires soon descends upon the library. Diana has stumbled upon a coveted treasure lost for centuries-and she is the only creature who can break its spell.
Debut novelist Deborah Harkness has crafted a mesmerizing and addictive read, equal parts history and magic, romance and suspense. Diana is a bold heroine who meets her equal in vampire geneticist Matthew Clairmont, and gradually warms up to him as their alliance deepens into an intimacy that violates age-old taboos. This smart, sophisticated story harks back to the novels of Anne Rice, but it is as contemporary and sensual as the Twilight series-with an extra serving of historical realism.
---
Review
DNF'd at 21-26%
I completely forgot to update and record the exact percentage at which I gave up. So I guesstimated it based on about which page I was on.
Wow okay so that book was kind of horrible for me.
To put it in retrospect, I started that novel back in November. It is now January. I have slaved and labored and tried to get into it, but I just really couldn't. By the time I had hit 120-150 pages in, I was just done with the whole plot. I continued to try to read and last I remembered, I think I was at the part right after their date. Erm the dinner date. Where like five pages are used to describe how she cooked his meal by researching gray wolves.
Yeah no.
I had high hopes for this novel. I was excited by it's length and interesting ideas. You see that summary up there?
"This smart, sophisticated story harks back to the novels of Anne Rice, but it is as contemporary and sensual as the Twilight series-with an extra serving of historical realism."
Well maybe I should have paid more attention because if they are comparing it to Twilight, I should not have picked it up. "As contemporary and sensual as the Twilight series."
Too bad Twilight wasn't all that.
If it makes it any worse, when I was reading this novel, I pretty much thought that this was a non-erotica version of Twilight and Fifty Shades of Gray. Now I haven't read Fifty Shades but back when it was popular and I was an innocent child who thought it was the next big teen novel, I looked up the summary. I think it was something about a college girl falling in love with her professor.
Yeah well the pretentious characters are right here in this novel. These two characters were almost exactly what I had envisioned Fifty Shades to be like when I didn't know it was erotica.
I was sick and tired of reading about yoga lessons and rowing sessions and wine expertise and Ashmole 782. Especially Ashmole 782 because why doesn't Diana just call the freaking document to resolve this whole issue?! I read so much unnecessary crap in the amount I read. And in that amount I barely actually saw any magic.
Here are some similarities with Twilight
Some weird "sport" seemingly added with no merit (Twilight had baseball, this had yoga.)
The "I'm so dangerous you should not fall in love with me" act
Both vampires go crazy over their girlfriend's scent
Both girls are boring, blunt and flat.
I'm vegetarian because I don't drink human blood!
I'll disappear randomly just because (Edward goes off to who knows where all the time and Matthew goes off to hunt in like France or something.)
I'm sure there were probably more but I didn't read enough.
There was some potential within the book. There was evidence of a fantasy world that I had not yet encountered (because I DNF'd it at 25%). There was some semblance of a plot that may have progressed.
It's too bad that I didn't care enough to continue reading.