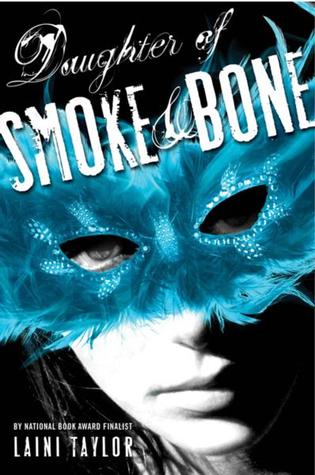 Author: Laini Taylor
Series: Daughter of Smoke & Bone #1
Publication Date: September 27th, 2011
Publisher: Little Brown Books for Young Readers
Number of Pages: 418
Genre: Fantasy, Paranormal, YA, Romance
Source: Public library
Links: Goodreads | Amazon | The Book Depository
---
Summary
Around the world, black handprints are appearing on doorways, scorched there by winged strangers who have crept through a slit in the sky.In a dark and dusty shop, a devil's supply of human teeth grown dangerously low.
And in the tangled lanes of Prague, a young art student is about to be caught up in a brutal otherwordly war.
Meet Karou. She fills her sketchbooks with monsters that may or may not be real; she's prone to disappearing on mysterious "errands"; she speaks many languages–not all of them human; and her bright blue hair actually grows out of her head that color. Who is she? That is the question that haunts her, and she's about to find out.
When one of the strangers–beautiful, haunted Akiva–fixes his fire-colored eyes on her in an alley in Marrakesh, the result is blood and starlight, secrets unveiled, and a star-crossed love whose roots drink deep of a violent past. But will Karou live to regret le
arning the truth about herself?
---
 Review
I liked this one quite a bit. I think that it deserves the hype it get.
The writing was lovely. It flowed exquisitely and had this certain magical and uplifting tone to it that I really liked. I had this same feeling when I read Taylor's addition to My True Love Gave to Me: 12 Holiday Stories and I really liked having the whole book give off a similar one. This was probably my favorite part of the whole novel to be honest.
Otherwise, I wasn't expecting this to be a romance at all. Like no idea. I thought it would have had a lot more action than it did, so I was a little disappointed when I found out that nearly the whole book was this story about Karou and Akiva's relationship. Seriously! There's so much other stuff to talk about, more so than just the long history of their love. I was reminded a lot of Romeo and Juliet with the forbidden interenemy (is that a word?) love. The sneaking away and the cruel, tragic ending of their story. I wanted more of Brimstone and the actual internal workings of the universe. I thought the novel moved rather slowly, only covering exactly what Karou finds out about her own past. However, at the same time, I think that it will play a huge central role in the later books (which I've heard are so much more action-packed and dark). The thing is, I do believe that the following books will be able to adequately appease my want for action, especially since the ending of the first novel is pretty open.
This was probably my first book about angels and I think it was a very good experience. I liked the way the worlds were built and the subtle additions of other myths. I was talking with a friend about something in the book and she said, "Yeah that's from a famous Greek myth!" How cool is that? I love that Taylor managed to incorporate a lot of different stories into the book even though they may not have been as important. This book had unique characters, settings, and ideas. The story seemed like something from another world. I loved the wishing system and Brimstone's job. There are so many different elements and I liked a lot of them.
But I can say that the plot did get a little confusing at times. In general, it was really easy to understand but some of the flashbacks were a little hard for me to really get emotionally invested in. I didn't really care about Madrigal at all (although I did like Karou). Akiva was okay but… I don't know. I didn't really care. The characters were hit and miss for me. I liked Issa, Brimstone, Karou, Zuzana, and some of the other characters. But I never really liked Akiva. Maybe it was because I thought he acted rather pitiful.
Either way, although I was a little disappointed with some of the story, Daughter of Smoke and Bone was dynamic in other ways I had not expected. The refreshing settings and new fantasy ideas were all things that I didn't realize that I wanted until I saw them. I'll definitely be reading on to find out about how the war continues.
3.5/5 Stars