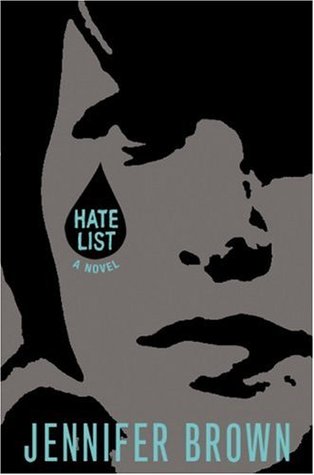 Author: Jennifer Brown
Series: None
Publication Date: September 1st, 2009
Publisher: Little Brown Books
Number of Pages: 405
Genre: YA, Contemporary,
Source: School library
Links: Goodreads | Amazon | The Book Depository
---
Summary
Five months ago, Valerie Leftman's boyfriend, Nick, opened fire on their school cafeteria. Shot trying to stop him, Valerie inadvertently saved the life of a classmate, but was implicated in the shootings because of the list she helped create. A list of people and things she and Nick hated. The list he used to pick his targets.
Now, after a summer of seclusion, Val is forced to confront her guilt as she returns to school to complete her senior year. Haunted by the memory of the boyfriend she still loves and navigating rocky relationships with her family, former friends and the girl whose life she saved, Val must come to grips with the tragedy that took place and her role in it, in order to make amends and move on with her life.
---
Review
I don't know if I liked this one as much as Torn Away which is a little strange because most readers seem to prefer this over that novel.
I had mixed feelings about this novel. I enjoyed it a lot. Enough to give it 4 stars but not enough to give it 5.
I will say that the character emotions are drawn exceptionally well. Valerie's internal turmoil and desperate need for her boyfriend to be sane really tugged at my heartstrings. I felt like her voice and personality was established very very well. Her boyfriend, Nick, when portrayed in the flashbacks has an aura that I thought was well done. Valerie continues to claim that he is a good person, but the flashbacks tell us otherwise. I could feel how mentally unstable he was in both the descriptions and the mood. This contrast gave me a clear idea of what exactly people believed about these two characters.
I was a little confused about the format of the book. It's a clear before-and-after sequence but at times, I found it a little difficult to follow along although I'm pretty sure that it was only because I read it really late at night. It's like a giant collage of different viewpoints and pieces of the timeline and it's done well.
The only thing I didn't really like was the family drama. I felt like there was way too many themes that Brown wanted to deal with and that the petty family drama was a background to Valerie's emotions. I didn't care enough about her family to really value the marriage issues. Valerie's father was truly despicable. I hated him so so much. To be honest, I just think that I wanted more of Valerie's school life rather than her family drama. But that's just a personal preference.
The book almost made me cry. Almost. The ending was fabulous and the way that Valerie has finally made it back to where she started before the shooting…. it was beautiful. The struggle she had to pick herself back up was done well and the way that the author addressed how we see people. I loved it.
What was possibly the most moving about this book was the fact that Valerie didn't mean for it to happen at all. The book has a lot of themes and messages that are addressed and Brown does it very well. She skirts the line on the issue by choosing a unique narrator. There are lots of different things a reader can learn from reading this book.
1. People are never just "bad" like the media says. There is a motive, life, and personality behind the media-portrayed version of a person.
2. One person is enough to make or break anybody.
3. Even the people that did really dumb, horrible things had people that loved them.
Hate List was more than just Valerie's struggle and a school shooting. It was about perception, opinions, understanding, and so many other things.
4.5/5 Stars