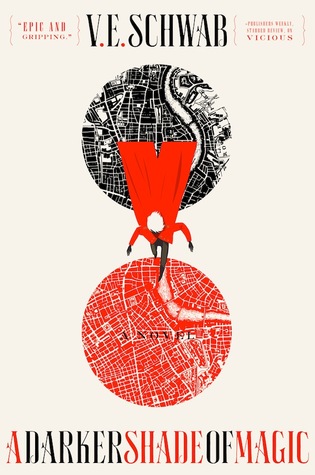 Author: V.E. Schwab
Series: A Darker Shade of Magic #1
Publication Date: February 24th, 2015
Publisher: Tor Books
Number of Pages: 400
Genre: Adult, Fantasy, YA
Source: Netgalley
Links: Goodreads | Amazon | The Book Depository
---
Summary
Kell is one of the last Travelers—rare magicians who choose a parallel universe to visit.
Grey London is dirty, boring, lacks magic, ruled by mad King George. Red London is where life and magic are revered, and the Maresh Dynasty presides over a flourishing empire. White London is ruled by whoever has murdered their way to the throne. People fight to control magic, and the magic fights back, draining the city to its very bones. Once there was Black London – but no one speaks of that now.
Officially, Kell is the Red Traveler, personal ambassador and adopted Prince of Red London, carrying the monthly correspondences between royals of each London. Unofficially, Kell smuggles for those willing to pay for even a glimpse of a world they'll never see. This dangerous hobby sets him up for accidental treason. Fleeing into Grey London, Kell runs afoul of Delilah Bard, a cut-purse with lofty aspirations. She robs him, saves him from a dangerous enemy, then forces him to another world for her 'proper adventure'.
But perilous magic is afoot, and treachery lurks at every turn. To save all of the worlds, Kell and Lila will first need to stay alive — trickier than they hoped.
---
Review
I received this book from Netgalley in exchange for an honest review.
*Unfortunately, I will not be able to accurately cite the page numbers as the ARC I got did not have page numbers
OH MY GOD.
LITERALLY SO HAPPY RIGHT NOW.
THIS BOOK HIT THE SPOT.
I'm 100% sure that Netgalley screwed up when I got this book because I was expecting the preview. NOT the whole book. I wasn't supposed to get the whole novel and I'm honestly wondering how ethical it was of me to read the book but if Netgalley messed up…. who am I to complain? Honestly I feel like publishers would like it more if I wrote a review for it rather than just ignore it. Generate more publicity y'know?
Wow.
Okay, my girl Victoria has slayed again. A Darker Shade of Magic was a truly enjoyable read and I can say that I absolutely loved it. I loved it even more than Vicious, which was one of my favorite reads of 2014 (although the review went up this year). This book successfully killed the reading slump I was in and my fingers itch to read another book.
The beginning is slow. I can say with much certainty that I was not on board with the book until a lot later. Schwab took quite a bit of time to set up her characters, settings, and plot. I wasn't really sure where the book was going until BAM Kell gets the rock and I'm officially hooked. I don't mind the long beginning, in fact I think it was really good because everything was explained and set up so well.
I think that something Schwab excels at is definitely world building. Much like in Vicious, A Darker Shade of Magic has a lively, jump-off-the-page setting and writing style that simply breathes. The descriptions never felt info-dumpy or boring. I was fascinated with the magical aspects within the novel. It's not just the setting that is done well but every individual detail of that setting. The people, attitudes, change in mood, it's all artfully done and so, so subtle. I literally can't even stop talking about how much I love the subtlety of her writing. I love the organization of the world and the unique new use of a common location. London is always so overused in books but it fit perfectly with A Darker Shade of Magic.
I don't think I've ever ever read a book that used parallel universes the same way that Schwab did. I loved the paper metaphor that Kell used to describe the worlds to Lila. Looking back, it was a well-done, subtle way to incorporate an easy-to-understand description to the readers.
"The worlds are like pieces of paper," he said, "stacked one on top of the other." That's how he'd always thought of it. "You have to move in order." He pinched a few pages between his fingers. "Grey London," he said, letting one fall back to the stack. "Red London." He let go of a second. "White London." The third page fluttered as it fell. "And Black." He let the rest of the pages fall back to the book.
"So you'll have to go through," said Lila.  (ARC Chapter 8 Part 1)
The plot comes off as really childish at first but I guarantee that it hides a deeper layer of complexity than just a rock. You will wonder how important the rock is and if any of the characters drop it, you will internally scream because you don't want the dumb White London rulers Astrid and Athos to get ahold of it. Perhaps the best part of the plot is the way that Schwab crafts it. There are multiple point-of-views and each provide a snapshot of the characters. The foreshadowing is fantastically done.
I want my own magical Black London rock and White London rook. So many cool fanmade objects could make for this series because Kell smuggles so much stuff.
IMAGINE IF SOMEONE COULD MAKE A MULTI-FACETED COAT LIKE KELL'S!
Okay back to the review. But something that shined in this book (besides the fantastic world-building) were the characters. We have two primary characters, Lila and Kell, and both of them are characterized well. While Vicious may have had some slightly flat characters, there was no doubt in my mind that A Darker Shade of Black had amazingly drawn characters. I didn't like either of the characters until their personalities grew to what they really were.
Lila is a stubborn, headstrong girl that dreams of being a pirate. She's fiery and strong and so badass. But it's all cool because it's who she is and nobody will be able to control her.
Kell on the other hand, is a fiercely loyal man who is logical. He thinks things through and is a little rebellious.
Together, the two make the best pair. They are literally so funny when they talk because Lila is sassy and Kell just can't deal with her crap. It's equal parts hilarious and heartwarming because they grow to care and trust each other by the end of the book. There's very limited romantic interaction but a strong friendship has been established that will never be broken.
(I ship it anyways.)
And it's not just the protagonists either. The antagonists and side characters were all likable and well done. No character feels useless or out-of-place and each one is tied together whether they realize it or not. Almost every one had multiple facets of their personalities explored. I even liked Holland and he was like the Draco Malfoy of the book. I'm serious. I got this Draco Malfoy vibe from him and I LOVED IT. His story is explored and just ugh it's amazing.
Okay this review has become a large collection of fangirl squeals and nonsense.
JUST GO READ IT WHEN IT COMES OUT.
5/5 Stars