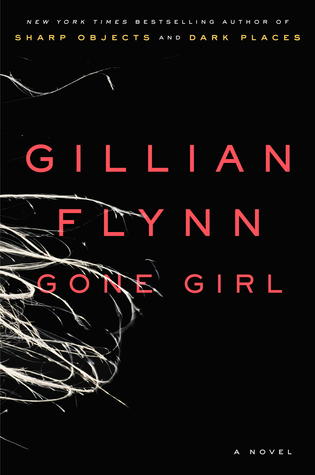 Author: Gillian Flynn

Series: None
Publication Date: June 5th, 2012
Publisher: Crown Publishers
Number of Pages: 415
Genre: Adult, Contemporary, Mystery, Thriller, Romance
Source: School library
Links: Goodreads | Amazon | The Book Depository
---
Summary
On a warm summer morning in North Carthage, Missouri, it is Nick and Amy Dunne's fifth wedding anniversary. Presents are being wrapped and reservations are being made when Nick's clever and beautiful wife disappears from their rented McMansion on the Mississippi River. Husband-of-the-Year Nick isn't doing himself any favors with cringe-worthy daydreams about the slope and shape of his wife's head, but passages from Amy's diary reveal the alpha-girl perfectionist could have put anyone dangerously on edge. Under mounting pressure from the police and the media–as well as Amy's fiercely doting parents–the town golden boy parades an endless series of lies, deceits, and inappropriate behavior. Nick is oddly evasive, and he's definitely bitter–but is he really a killer?
As the cops close in, every couple in town is soon wondering how well they know the one that they love. With his twin sister, Margo, at his side, Nick stands by his innocence. Trouble is, if Nick didn't do it, where is that beautiful wife? And what was in that silvery gift box hidden in the back of her bedroom closet?
---
Review
Shit goes down in this book.
I'm pretty bad with keeping up with popular books and reading this one was no exception. Gone Girl isn't even popular anymore and I'm reading it now.
Well either way, I can say that Gone Girl really satisfied the part of me that enjoys crime novels and psychologically crazy people. I love reading about different mental states and personalities and murders. But although I enjoyed it, I also thought that there were some rather…. disappointing aspects of the novel.
As a whole, I found it to be a very strong book. I liked the writing and the portrayal of the characters. From page 1, you can already tell that the characters are a little deranged but it's kept under lock until much later. The emotions are kept at a simmering level that builds up. And then you hit part 2 and everything just drops. The tone and mood of the novel completely changes. While the first half represented the calm before the storm, the second half was the part of the book that made me turn the pages as fast as I could. Here we learned the schematics of the murder and more about the individual mindsets of each character. The actual crime part (the part that interests me) picks up and we get to begin really forming theories and suspects of the case.
I know that a lot of people didn't like how slow the first half of the book was, but I personally liked it a lot. It kind of reminded me of a satirical TV show where the traitor takes off the mask and shows the hero exactly how he/she betrayed the good side. There's this distinct shift in tone and character.I loved how Flynn portrayed this character change and thought that it was done very well.
The characters themselves were very developed. The two protagonists, Nick and Amy, are both explored in depth and both are completely insane. The hate and detest that the Nick and Amy feel is so palpable. I love when emotions dark or light are so well written that it resonates with a character and it did with this book. Their entire backstories  and emotions are laid out piece-by-piece in a careful manner. Little bits of each person's true personality is revealed in each chapter and by the end, we are able to understand why these two were so attracted to each other.
On the other hand, I was kind of disappointed by how…. predictable the plot was. If you read my First Impressions post, I had pretty much begun to piece together what had happened. I know I had suggested some… kind of unreasonable things, but along with my four completely irrelevant predictions, I had mentioned the possibility of it being staged by Amy. I even mentioned that I was hesitant to believe that it was true because I had learned to expect that I would be surprised by the ending. So of course, when I learned that Amy was crazy and staged it, I felt really let down.
With the predictable plot, I was sincerely hoping that Amy would get thrown into jail. And of course she didn't. 😦
I was kind of unimpressed with the ending of the book. It feels a little bit like Flynn is advocating for toxic relationships (although I know she most definitely was not) because the two are staying together. I kind of want a sequel where Nick finally succeeds in throwing his wife in jail because I just felt like the entire ending was kind of rushed. I didn't like how the last few chapters felt sparse and undetailed. I didn't like that Amy still got the last word. I didn't like that Amy had freaking gotten herself pregnant with her husband's frozen semen. Like that's a whole new level of crazy. There were a lot of loose ends that I wanted fixed.
I'll be seeing the movie sometime soon.
3.5/5 Stars