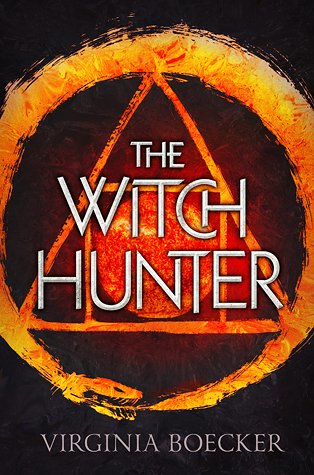 Author: Virginia Boecker
Series: The Witch Hunter #1
Publication Date: June 2nd, 2015
Publisher: Little Brown Books for Young Readers
Number of Pages: 368
Genre: Fantasy, Historical Fiction, YA
Source: NOVL
Links: Goodreads | Amazon | The Book Depository
---
Summary
The magic and suspense of Graceling meet the political intrigue and unrest of Game of Thrones in this riveting fantasy debut.
Your greatest enemy isn't what you fight, but what you fear.
Elizabeth Grey is one of the king's best witch hunters, devoted to rooting out witchcraft and doling out justice. But when she's accused of being a witch herself, Elizabeth is arrested and sentenced to burn at the stake.
Salvation comes from a man she thought was her enemy. Nicholas Perevil, the most powerful and dangerous wizard in the kingdom, offers her a deal: he will save her from execution if she can break the deadly curse that's been laid upon him.
But Nicholas and his followers know nothing of Elizabeth's witch hunting past–if they find out, the stake will be the least of her worries. And as she's thrust into the magical world of witches, ghosts, pirates, and one all-too-handsome healer, Elizabeth is forced to redefine her ideas of right and wrong, of friends and enemies, and of love and hate.
Virginia Boecker weaves a riveting tale of magic, betrayal, and sacrifice in this unforgettable fantasy debut.
---
Review
Thanks to the NOVL newsletter for sending me an ARC of this book!
I wasn't a huge fan of this book.
As always, highlight to read spoilers.
Now, The Witch Hunter is a historical fiction novel set in the 1500 in England. Needless to say, I didn't really think there was much of a sense of setting. This is one of those books that would have benefited greatly from a map (it might be in the finished copy but there isn't one in the ARC) because I'm not entirely sure where anything is. The worldbuilding was, in my opinion, shoddy at best, especially since many of the fantasy aspects were kind of brushed over. There's some witches doing witchy stuff and I'm not entirely sure why they were even being hunted. I think it's along the lines of the fact that they're afraid that Nicholas Perevil is going to take over the kingdom.
Overall, The Witch Hunter felt like every other fantasy novel. I felt as if some of the the same recycled plot elements were used over and over again. There was the cliched royal family conspiracy in which a family member tries to take over the entire throne and of course, a love triangle. There's the same bitchy, jealous girl that treats the protagonist like crap. It's fairly predictable but definitely not terrible.
What I thought was the most cringe-worthy was probably the romance. I did not buy the attraction between Elizabeth and John at all. John was awkward and poorly characterized and Elizabeth? I was mostly indifferent to her. She was hypocritical and somewhat strong but I really didn't care. I never connected with her in any way and because of this, I didn't care about the romance. And Caleb? Seriously? Well, I just felt like she should've just gotten over him but maybe that line of thinking is too rational for a typical YA character. The love triangle was just kind of disappointing.
Actually, the same indifference I had for Elizabeth could be applied to the whole book. It wasn't a bad book, I just never got fully engaged. I wasn't pulled in by it at all. It was what I would consider an easy and fast read. I didn't try to take my time with finishing it lest I get bored to death. There wasn't much suspense but the plot did have a purpose.
So overall, not horrible but not really worth recommending to my friends.
2.5/5 Stars