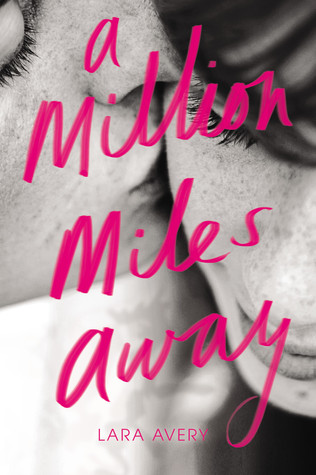 A Million Miles Away by Lara Avery
Series: None
Publication: July 7th, 2015 by Poppy
Number of Pages: 320
Genre: Contemporary, Young Adult, Romance
Source: NOVL Newsletter (Thanks~!)
Rating: ★★★1/2
Goodreads | Amazon | The Book Depository
---
Summary
Perfect for fans of Nicholas Sparks, this breathtaking story of love and loss is guaranteed to break your heart and sweep you off your feet.

When high school senior Kelsey's identical twin sister, Michelle, dies in a car crash, Kelsey is left without her other half. The only person who doesn't know about the tragedy is Michelle's boyfriend, Peter, recently deployed to Afghanistan. But when Kelsey finally connects with Peter online, she can't bear to tell him the truth. Active duty has taken its toll, and Peter, thinking that Kelsey is Michelle, says that seeing her is the one thing keeping him alive. Caught up in the moment, Kelsey has no choice: She lets Peter believe that she is her sister.

As Kelsey keeps up the act, she crosses the line from pretend to real. Soon, Kelsey can't deny that she's falling, hard, for the one boy she shouldn't want.
---
Review
I received this book from the publisher via NOVL Newsletter. This does not affect my opinions or review in any way.
(Highlight for spoilers)
This book, strangely, did not really do much for me emotionally. Maybe it was the awkward, detached writing but it might have just been myself. I've read a few novels dealing with the military recently and I haven't really felt moved by any of them. I don't have much experience with family and friends in the military whatsoever so I can't really relate to what happens in the book.
Ignoring how unrealistic it was, I could understand the feelings that Kelsey, the main character, had throughout the novel. In a way, acting as Michelle was a unique coping mechanism for Kelsey, even if a little strange. I didn't really like the way she handled it at all. She was actively lying to Peter with a couple of flimsy excuses to justify why she was doing was okay. The good thing about this though, is that the people that caught her saw the wrong of what she was doing. They saw her actions for what they were. Blatant lying. This contrast, in my opinion, highlighted exactly how much Michelle's death had impacted Kelsey emotionally. Kelsey was a complicated character that changed a lot, gradually, and for the better throughout the book. She learned more about herself and her sister.
I related to her when she was talking about dance and the passion of it. I'm certainly not as good as she is (Quadruple pirouettes? Hahhhh I can only dream) but even so, technique isn't necessary to feel the rush and joy of dance. I liked her character a lot even if I didn't approve of any of her decisions.
I liked the way that the author handled the family and friends. Although they weren't as developed as Kelsey, there was an element of realism and individuality with each character. We slowly learn about Michelle through Kelsey and about the different relationships Kelsey has with other people.
 I didn't like the ending at all. It was unrealistic and strangely happy. I'm not saying that she had to be depressed about her sister's death. I would have been satisfied if she had just learned to mourn and accept her sister's death in a healthier way. She does do this. But what I didn't like was that Peter was okay with Kelsey lying to him. She falls in love with him while acting as Michelle and confesses to him after telling the truth. He gets mad, as expected, but then he gets over it oddly quickly. They start a relationship at the very end. To me, it made me feel like everything we had learned about Peter and his personality up until this point was wrong. His sincerity and openness towards those that he loved was quite possibly, the most memorable thing about his character. It felt out of character for him to suddenly forgive after learning about Kelsey's lie.
Overall I was very satisfied with A Million Miles Away. Iffy writing and plot aside, I liked Kelsey's character and the relationship between Kelsey and dead Michelle enough that the book was saved for me.
(Can I just say that I love the cover? The contrast of the pink and grey is gorgeous!)