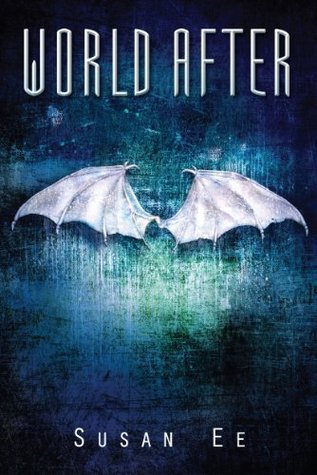 World After by Susan Ee
Series: Penryn & The End of Days #2
Publication: November 19th 2013 by Skyscape
Number of Pages: 320
Genre: Young Adult, Paranormal, Post Apocalyptic, Romance
Source: Netgalley
Rating: ★★★1/2
Goodreads | Amazon | The Book Depository
---
Summary
In this sequel to the bestselling fantasy thriller, Angelfall, the survivors of the angel apocalypse begin to scrape back together what's left of the modern world.

When a group of people capture Penryn's sister Paige, thinking she's a monster, the situation ends in a massacre. Paige disappears. Humans are terrified. Mom is heartbroken.

Penryn drives through the streets of San Francisco looking for Paige. Why are the streets so empty? Where is everybody? Her search leads her into the heart of the angels' secret plans where she catches a glimpse of their motivations, and learns the horrifying extent to which the angels are willing to go.

Meanwhile, Raffe hunts for his wings. Without them, he can't rejoin the angels, can't take his rightful place as one of their leaders. When faced with recapturing his wings or helping Penryn survive, which will he choose?
---
Review

I received this ebook from Netgalley in exchange for a honest review. This does not affect my opinions and review in any way.
If you haven't read my review for the first book Angelfall, check it out here!
(Highlight for spoilers)
I started World After right after I finished Angelfall so the line between where ended and the other started is a little blurred for me. However, World After is almost just as good as the first book. There were just a few things that I liked in the first book a little bit more.
I discussed how much I adore Penryn as a character in my other review. This stands for the second book. If anything, I love her even more because of her stubbornly caring attitude. The second book has a similar main plot. That is, that her sister, Paige, has once again been taken. Well now she's a monster but the point stands that Penryn wants to save her sister. It was all great in the first book, but in this one…. well it was less roaming around but more infiltration and spying. Which proved to be significantly less interesting than the first. There were quite a few sections in this book that dragged. As in I got really bored with how the book continued and almost fell asleep.
This time, Raffe and Penryn are separated. Penryn continues to search for her sister (what's new?) and Raffe is off fighting his own battles. After a wing surgery gone wrong, he has a pair of demon wings strapped on to his back while said demon wing provider, Beliel, has his wings. And he wants his wings back. While I love their relationship, I can't complain about how they are separated in this book because it's handled really, really well. There's no angsty longing that interferes with each character's rational decisions. It's present, but it's in the background (until the second half). We do get to see their banter (and it's glorious), but it's later and just as fabulous as it was in the first book.
(Side tangent: There's one part where Raffe learns to swim with his wings with Penryn's help and I literally just screamed the whole scene. This is of course, after they reunite and the moments before they did were so frustrating. They'd be in the same place but then Raffe would freaking take off chasing after Beliel before he'd get a chance to see Penryn! Really really annoying but made their final reunion all the more worthwhile.)
In this book we get to see a lot more of the internal workings of the angel community. The politics of their leadership is absolutely disgusting and the reason for their "Rapture" is even more so. Not going to spoil about how it works or anything but I just wanna say that Ee has effectively portrayed these angels as monsters. It did kind of make the book drag a little more, as the action was more passive (lol does that even make sense?) but Penryn's gotta learn about it some how and it's not going to be by roundhouse kicking their leader.
We also get to see a lot more of Paige and her ever omnipresent mother. I don't even get how her mom suddenly appears everywhere but she's such a strange and interesting character that it's fascinating to see the way that the family interacts. Paige also becomes more complicated and I actually really liked her. In short, their family developed uniquely and well. Thumbs up! She has an interesting kind of Stockholm syndrome relationship with Beliel that is both terrible and pitiful. I liked the way that Ee worked it into the plot.
And of course, when I got to the last bit, I pretty much just curled up into a ball and moaned like the fangirl I am because I needed the third book that badly. It's a good thing that I read this series after all of the books were released because I have it now.
---
So I didn't like this one as much as the first book but it was still good. And yes, I still ship it. On to the third book!