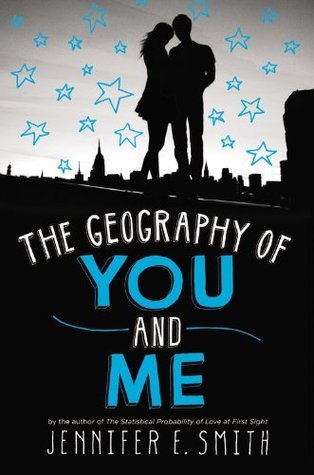 The Geography of You and Me by Jennifer E. Smith
Series: None
Publication: April 15th, 2014 by Poppy
Number of Pages: 337
Genre: YA, Romance, Contemporary
Source: Public Library
Rating: ★★1/2
Goodreads | Amazon | The Book Depository
---
Summary
Lucy and Owen meet somewhere between the tenth and eleventh floors of a New York City apartment building, on an elevator rendered useless by a citywide blackout. After they're rescued, they spend a single night together, wandering the darkened streets and marveling at the rare appearance of stars above Manhattan. But once the power is restored, so is reality. Lucy soon moves to Edinburgh with her parents, while Owen heads out west with his father.

Lucy and Owen's relationship plays out across the globe as they stay in touch through postcards, occasional e-mails, and — finally — a reunion in the city where they first met.

A carefully charted map of a long-distance relationship, Jennifer E. Smith's new novel shows that the center of the world isn't necessarily a place. It can be a person, too.
---
 Review
I enjoyed this book a lot more than Smith's other book, The Statistical Probability of Love at First Sight. I get that I'm in the minority with this opinion but I just felt like this book was a lot smoother. I know that some of the other readers found it kind of boring but I flew through this one. There were short chapters, sweet messages, and fluffy writing. It was just great. It went down like water. I like water.
(Side tangent: That guy in that gif? Yeah he's like my favorite member of VIXX, one of my fave Korean boybands. And I just realized that that bottle is like empty lmao.)
There were a lot of moments that made me feel ridiculously happy. My favorite was when the two of them both sent postcards to each other with exactly the same message. Screw how unrealistic it was because I thought it was really freaking cute.
The characters, as a whole, were not the strongest part of the plot. But they were still so so cute. Even if they were slightly bland (okay I found Owen really bland), I related to Lucy a lot. I totally understood how their communication trickled off into nothing and the how they hesitated to start up a conversation again. I got the awkward feelings and the way they hover around you when you are trying to communicate long-distance. I perfectly understood how the awkwardness of trying to communicate through technology and mail completely dissipated once you saw somebody in person. Well, for me it wasn't romantic, but it was still awkward. I thought that the progression of their communication was realistic, especially since they barely knew each other when they had begun to mail postcards to each other.
And their romance… well I wouldn't really say that I'm the ultra shipper but it was cute (okay I need to find a new adjective). It wasn't the most realistic. To be honest, it felt almost like an instalove. They met maybe once or twice and then were left to communicate long-distance. Real life experience tells me that even if I knew someone for a month, the chances of me being able to continue to talk to them for longer than a week is really low because most of the time, one of us just kinda lets it drop. Somehow I don't think that Lucy and Owen would be able to keep it up for that long.
The book was written in a dual perspective but I didn't have any trouble with identifying the POV. Although the writing style was the same (and fabulous because it was PERFECT for telling this story), the events in each person's life was distinct enough to tell them apart.
Overall, it was cute (like I've said way too many times in this review) but forgettable.
---
I wrote this review back in May. I think. I'm totally estimating here but I completely forgot that I even wrote this. I don't seem to be a big E.Smith fan. I didn't review The Statistical Probability of Love At First Sight but I think I liked it even less than this one. Thoughts?