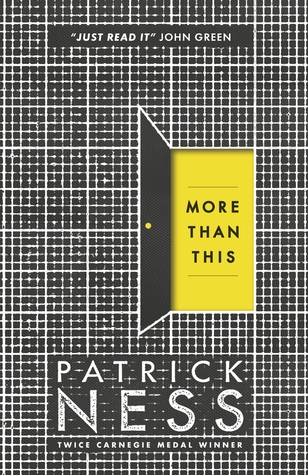 More Than This by Patrick Ness
Series: None
Publication: May 1st 2014 by Walker Books Ltd
Number of Pages: 480
Genre: Young Adult, Dystopian, LGBTQ
Source: Public library
Rating: ★★★★
Goodreads | Amazon | The Book Depository
---
Summary
A boy drowns, desperate and alone in his final moments. He dies.

Then he wakes, naked and bruised and thirsty, but alive.

How can this be? And what is this strange deserted place?

As he struggles to understand what is happening, the boy dares to hope. Might this not be the end? Might there be more to this life, or perhaps this afterlife?

From multi-award-winning Patrick Ness comes one of the most provocative and moving novels of our time.
---
Review
This book is so hard to talk about with friends that haven't read it. I've had at least two friends ask me about the "purgatory" aspect of the book. And all I can do is awkwardly say that I don't want to spoil anything and shift my weight from foot to foot. The summary is really misleading and readers definitely will not expect what it actually means. Taken out of context it sounds a lot like a purgatory or life after death situation but well… spoilers.
More Than This is complicated. There's more to it than it seems and I'm still confused. I think I understood what happened but I'm definitely not positive. And I know that I'm not the only one that was confused at the end of the book. I can't explain anything without spoiling it but rest be assured that you will most likely be confused. But who said that being confused was a bad thing? I liked it a lot and props to the author for making something that is truly mindblowing. The plot is twisty and slowly drops clues about what happened. It's kind of like the movie The Matrix. What is real and what isn't? That's the question you should be asking.
In terms of characters, we are given a great cast of them. They have a fantastic friendship that was extremely well done. They build trust slowly but surely in a way that is rewarding to the reader. There's the main character, Seth, a boy that can't remember anything about where he came from and how he woke up. He's complex and his story is a tragic one. In his lovely wasteland of a new home, he meets two unlikely allies, Regine and Tomasz. Regine is a strong, stubborn girl. She's loyal and a little suspicious of Seth but eventually grows to become his friend. Tomasz on the other hand, is young, Polish, and hilarious. I love him. Of course they have sob stories too but well… okay I've already said too much but just know that they are diverse.
Just expect the angst to hit you like a truck because Ness wrote each internal conflict really well.
This is my first Ness book and there's no doubt in my mind that I'll pick up another one. He has the most unique plot ideas and has fluid, beautiful writing. More Than This was paced pretty slow but it was crafted so intricately and well that reading it was like uncovering a new puzzle to figure out. The only advice I have for readers is to not research the book too much and to go into it blind because otherwise the book loses a large level of mystery that is crucial to it's enjoyment. Curious? Well then go read it!
---
This review feels ridiculously short and for that, I apologize. But I really can't say much without spoiling stuff so just read it! I already had to let my friend go into it blind although I'm pretty sure she might have been a little disappointed. What did you guys think of this book?