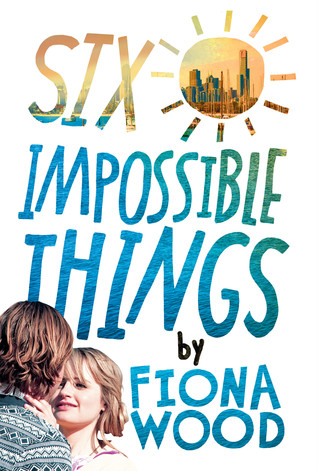 Six Impossible Things by Fiona Wood
Series: None
Publication: August 11th, 2015 by Poppy (in the US)
Number of Pages: 263
Genre: Contemporary, YA, Romance, Retelling
Source: From the publisher via NOVL (Thanks NOVL~!)
Rating: ★★★
Goodreads | Amazon | The Book Depository
---
Summary
Fourteen year old nerd-boy Dan Cereill is not quite coping with a reversal of family fortune, moving house, new school hell, a mother with a failing wedding cake business, a just-out gay dad, and an impossible crush on Estelle, the girl next door. His life is a mess, but for now he's narrowed it down to just six impossible things…
---
Review
I received this book from the publisher via NOVL. This does not affect my opinions or review in any way.
Imagine my surprise when I read that this is supposed to be a very loose retelling of Cinderella.
I mean I can see it! I definitely can see it! It's just that the resemblances are very subtle.
Okay moving on.
I loved the first chapter and the way that it began. It really sets the tone for the way that Dan would narrate his story.
If you can forget that it means someone just died, inheriting something is a good thing, isn't it? A stroke of luck. Improved circumstances. But when it happened to us, it had the opposite effect. Everything got a whole lot worse. Quickly.

Things had been going wrong at my father's work. Even in a place the size of ours, I could hear the fights. Our apparently comfortable life was an illusion propped up by some massive overdraft. It was all about to come tumbling down. And we to come tumbling after.
The rest of the book was alright, I guess. I found the romance very odd. Someone needs to tell Dan that you do not woo a lady by creeping on her. It's very creepy, very inappropriate, and does not set them up for a nice relationship later. His obsession with her made me a little uncomfortable. His massive crush aside, I also didn't like Estelle in general. I don't understand how she's attractive. She's a total bitch to him, uses him, convinces him to do things that are clearly illegal, is rude, ugh my complaints can go on and on. I don't get the appeal of her at all. I feel as if this is another cliche case in which the "lame" nerd falls for the "cool, unattainable girl" and gets her. I didn't see the chemistry between these two characters at all. As such, since the book is pretty much a romance novel, the fact that this particular aspect of the plot failed to really interest me made me enjoy the book less.
Dan himself was actually a fairly nice character. Throughout the book we learn about his family's crappy financial situation and the horrible luck he's had. I know a lot of readers felt that he was too young, but I thought he was okay! He's the same age as I am (15) but he feels both younger and older than I am. He's more mature when it comes to helping his family but then he's definitely younger when it comes to self control and emotions. I sincerely did not need to listen to him blabber on about Estelle as much as he did. Sometimes, I felt like rolling my eyes at him the same way that I do at some of my classmate's romantic endeavors. That is, I found it ridiculous. Other than that, he's an entertaining narrator.
The thing about this book is that I think it was supposed to be very character-driven. The plot isn't all there. To be quite honest, I felt as if there was no plot. It's a character growth story through and through. The problem I had with it was that the characters, while developed, weren't all that moving. Sure they were developed but I didn't feel like they were utilized to move the book along.
I do like that Dan had a real relationship with his parents. It was a very large aspect of the plot. Traditionally, the parents are the ones in control and that make money. In this story, Dan has to get a job to help pay bills because his family is financially unstable. Oh and his dad comes out as gay and divorces his mom. He's financially suffering too. To make it work, obviously there has to be some type of relationship between Dan and both his mother and father. I really liked that Dan had a tangible and complicated relationship with both of them. Too often I've read a YA novel where the family is nonexistent. Teens have parents and YA should represent that.
So yes, there are some aspects of the plot that are less than stellar. But the growth of Dan and his familial relationships are what I'd say are the stronger elements of the novel. His friends, Lou and Fred, are very entertaining. They're probably my favorite characters in the book. As a person who hasn't read very much Aussie YA, I enjoyed this one even if it was a little flawed.
---
I find that I have a lot of trouble writing books that I rate around 3 stars. I'm just not good at finding that balance. I still hope that this review got my opinion across though. >.<