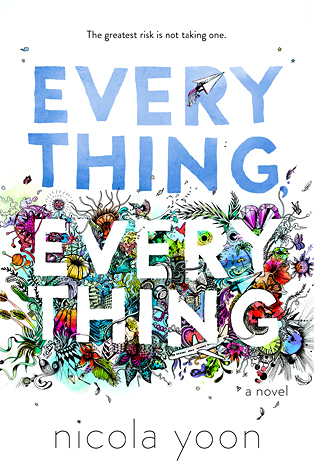 Everything, Everything by Nicola Yoon
Series: None
Publication: September 1st 2015 by Delacorte Books for Young Readers
Number of Pages: 320
Genre: YA, Contemporary, Romance
Source: Netgalley
Rating: ★★★
Goodreads | Amazon | The Book Depository
---
Summary
This innovative, heartfelt debut novel tells the story of a girl who's literally allergic to the outside world. When a new family moves in next door, she begins a complicated romance that challenges everything she's ever known. The narrative unfolds via vignettes, diary entries, texts, charts, lists, illustrations, and more.

My disease is as rare as it is famous. Basically, I'm allergic to the world. I don't leave my house, have not left my house in seventeen years. The only people I ever see are my mom and my nurse, Carla.

But then one day, a moving truck arrives next door. I look out my window, and I see him. He's tall, lean and wearing all black—black T-shirt, black jeans, black sneakers, and a black knit cap that covers his hair completely. He catches me looking and stares at me. I stare right back. His name is Olly.

Maybe we can't predict the future, but we can predict some things. For example, I am certainly going to fall in love with Olly. It's almost certainly going to be a disaster.
---
Review
I received a copy of an e-arc from Netgalley in exchange for an honest review. My opinions have not been influenced in any way.
Has this book had a lot of hype?
Yes.
Do I think it really lives up to it?
Sort of?
Let me elaborate.
Everything, Everything is an extremely unique type of diverse. It falls under the disability/sick people section of contemporary with a disease that people have rarely explored. Additionally, Maddy is half-Japanese and half-African-American.
The book initially flew under my radar. I had seen it but I got this gut feeling that it wasn't really going to be the type of book that I'd love. And of course, I was right.
Now, Everything, Everything isn't inherently bad. It's not a bad book. The characters are well done, the idea is unique, the emotions and romance are pretty well done. So I honestly don't really know why I don't love it like the scores of people that do.
I didn't really connect with Maddy. I thought she was kind of boring (Her wardrobe god. She only wears white t-shirts, jeans (She scoffs at boyfriend jeans. PLEASE THOSE ARE MY FAVORITE.), and white Keds.). I didn't get that connection with her. Though the good thing is that her decisions and changes over the course of the book are well done. She's a loyal character that has never once taken a chance and gone outside before this book. She loves her mother and Carla (I love Carla) and takes an interest in books and learning. SHE'S A BOOK-LOVER TOO, GUYS! She's not a perfect character but the one thing I loved is that by the end of the book (highlight to read spoiler) she had learned to take chances and chase after what she cared for.
I didn't love Olly like everybody else did. I definitely see his appeal but I also thought that he was kind of unassertive. Like dude, if you really love Maddy, TELL HER THAT HER ACTIONS ARE STUPID. Yoon also was able to talk about domestic abuse (to a less degree) by making Olly's father abusive.
The romance between Olly and Maddy is definitely a little insta-lovey but the development itself kind of makes it better. Still, I found that it moved a little quickly. Maddy was suddenly willing to change her whole life for him? Somehow, I feel like the rational side of her would have stopped her. But if it didn't happen… we wouldn't have this book. MOVING ON.
I really liked the format of the book. Between chapters, we'd get a little snippet of Maddy's opinion on a book, artwork relating to a scene, little conversations, and other stuff like that. It really helped me put some of the book into perspective.
One of the biggest things that I was disappointed about was that I felt like I learned nothing about SCID! I now know what the disease is, how it's a problem, and that… Maddy only eats and breathes certain stuff? And that she can't keep live pets. I wish that we got to see more of the disease rather than it just being the issue keeping Maddy apart from her love interest.
I would also say that the book felt really unrealistic. By glossing over the details of SCID and putting the focus on the emotional and mental development of Maddy and her relationship, I felt as if the thing that initially attracted readers (the SCID plot) was largely ignored in favor of romance. It sucks because I felt no butterflies or emotion when the two interacted, whether it be IM, verbally, or even intimately. I came out of the book having learned pretty much nothing new, especially after reading the ending. There's a twist that did nothing for me and made the believability (I think that's a word?) totally decrease.
Overall, Everything, Everything, is an extremely diverse book that has dubious believability, a somewhat insta-lovey romance, and a fabulously developed protagonist. Even if I didn't totally love it, I did enjoy it to some degree! I feel like it would have been a lot better if the book had been longer.
---
So essentially what I've learned from reading this book is that I should ALWAYS ALWAYS trust my gut feeling about books like this because 99% of the time it's right. The only exception would be if my closest and most trusted book reading buddies tell me that it's the next holy grail or something. I didn't hate this one but I don't think it's totally, totally deserving of the hype.