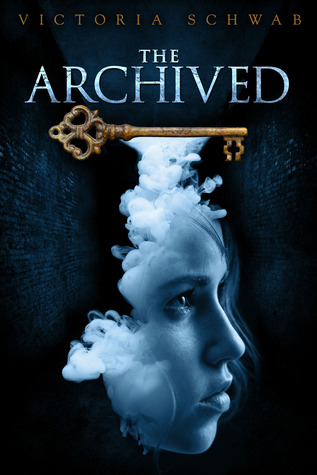 The Archived by Victoria Schwab
Series: The Archived #1
Publication: January 22nd, 2013 by Hyperion
Number of Pages: 328
Genre: Young Adult, Paranormal
Source: School library
Rating: ★★★★
Goodreads | Amazon | The Book Depository
---
Summary
Imagine a place where the dead rest on shelves like books.

Each body has a story to tell, a life seen in pictures only Librarians can read. The dead are called Histories, and the vast realm in which they rest is the Archive.

Da first brought Mackenzie Bishop here four years ago, when she was twelve years old, frightened but determined to prove herself. Now Da is dead, and Mac has grown into what he once was: a ruthless Keeper, tasked with stopping often violent Histories from waking up and getting out. Because of her job, she lies to the people she loves, and she knows fear for what it is: a useful tool for staying alive.

Being a Keeper isn't just dangerous—it's a constant reminder of those Mac has lost, Da's death was hard enough, but now that her little brother is gone too, Mac starts to wonder about the boundary between living and dying, sleeping and waking. In the Archive, the dead must never be disturbed. And yet, someone is deliberately altering Histories, erasing essential chapters. Unless Mac can piece together what remains, the Archive itself may crumble and fall.

In this haunting, richly imagined novel, Victoria Schwab reveals the thin lines between past and present, love and pain, trust and deceit, unbearable loss and hard-won redemption.
---
Review
This is probably my least favorite Schwab novel. That's not to say that it's a bad book! I still enjoyed it, but I definitely prefer her adult books. They're darker and suit my taste more.
The Archived felt very young compared to her other writing. It makes sense because The Archived was YA and her other books are Adult novels. The Archived, to me, felt as if it could easily appeal to Middle Grade readers.
I didn't really like Mackenzie. She felt moody, indecisive, and boring to me. She was developed, but I can't say that I liked her all that much. I have a feeling that she'll grow on me a lot by the time I finish the sequel though.
BUT WES. I LOVED WES. He was funny, cheerful, and the ship is real. I ship him and me Mackenzie. I didn't really like the love triangle and I definitely saw the twist coming. To be honest, the romance, while cute, wasn't a humongous role in the novel. The book was more of an introduction to the rest of the series. It sets up the conflict, world building, and characters so then we can really begin in the next book.
Schwab's forte has always been world building. It was really good in Vicious and it was really good in A Darker Shade of Magic. The Archived was no different. The world is well developed, detailed, and gorgeous.
Overall, I really enjoyed this one. I'm definitely looking forward to reading The Unbound before the third book comes out!
I've also reviewed Schwab's other novels. Read them below!
---
We Should Hang Out Sometime by Josh Sundquist
Series: None
Publication: December 23rd, 2014 by Little, Brown Books for Young Readers
Number of Pages: 336
Genre: Autobiography, Memoir, Contemporary, Romance
Source: Public Library
Rating: ★★★
Goodreads | Amazon | The Book Depository
---
Summary

A bright, poignant, and deeply funny autobiographical account of coming of age as an amputee cancer survivor, from Josh Sundquist: Paralympic ski racer, YouTube star, and motivational speaker.

Josh Sundquist only ever had one girlfriend.
For twenty-three hours.
In eighth grade.

Why was Josh still single? To find out, he tracked down the girls he had tried to date and asked them straight up: What went wrong?

The results of Josh's semiscientific, wholly hilarious investigation are captured here. From a disastrous Putt-Putt date involving a backward prosthetic foot, to his introduction to CFD (Close Fast Dancing), to a misguided "grand gesture" at a Miss America pageant, this story is about looking for love–or at least a girlfriend–in all the wrong places.
---
Review
This definitely was not my favorite memoir. It felt kinda dumb at times.
First of all, I feel like the book was not a clear scientific study. As much as it's been labelled as a "semiscientific investigation" the conclusion and hypothesis and everything felt about as scientific as me observing a reality TV show. There was no clear connection between his evidence and conclusion. Of course it's a memoir so this probably the nerd in me complaining because the premise is hardly even a scientific study so…
If anything it should've been marketed as a book where the author learns more about himself and self-confidence. Just saying.
That being said, it was a very fast, easy read. As we learn more about each girlfriend/crush he had and why it didn't work it, we learn more about Sundquist's personality as himself and around girls.
There really isn't much a plot. Rather it's a series of observations of each relationship. In this way, I can't really say that I liked the progression of it. There were some stories I liked more than others by a lot.
To be honest, there were a few relationships that reminded me a lot of my more immature classmates. That is, they don't even know if they truly like each other, but date anyways. But I guess that's part of learning about love.
---
These are slightly longer mini-reviews than the last few ones I've written but I hope that they are detailed enough. I tried to write down the things I remember liking and disliking about each book although I definitely know that it's not up to my usual standard. However, I still wanted to put up some of my opinions for these books! I've changed the format of my mini-reviews but I think it looks better and is clearer if I only do two in a set.