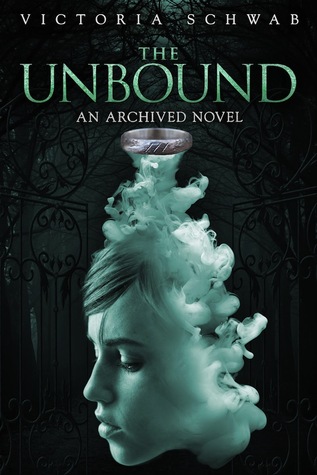 The Unbound by Victoria Schwab
Series: The Archived #2
Publication: January 28th, 2014 by Hyperion
Number of Pages: 368
Genre: YA, Paranormal, Romance, Fantasy
Source: School library
Rating: ★★★
Goodreads | Amazon | The Book Depository
---
Summary
Imagine a place where the dead rest on shelves like books. Each body has a story to tell, a life seen in pictures that only Librarians can read. The dead are called Histories, and the vast realm in which they rest is the Archive.

Last summer, Mackenzie Bishop, a Keeper tasked with stopping violent Histories from escaping the Archive, almost lost her life to one. Now, as she starts her junior year at Hyde School, she's struggling to get her life back. But moving on isn't easy — not when her dreams are haunted by what happened. She knows the past is past, knows it cannot hurt her, but it feels so real, and when her nightmares begin to creep into her waking hours, she starts to wonder if she's really safe.

Meanwhile, people are vanishing without a trace, and the only thing they seem to have in common is Mackenzie. She's sure the Archive knows more than they are letting on, but before she can prove it, she becomes the prime suspect. And unless Mac can track down the real culprit, she'll lose everything, not only her role as Keeper, but her memories, and even her life. Can Mackenzie untangle the mystery before she herself unravels?

With stunning prose and a captivating mixture of action, romance, and horror, The Unbound delves into a richly imagined world where no choice is easy and love and loss feel like two sides of the same coin.
---
Review
Eh. Okay.
I love Schwab's books. Usually. But I can't help but feel let down by this one.
I had high expectations for The Archived but I don't know. I wish it was darker.
Unlike a lot of other readers, I didn't like Mackenzie. I didn't like her in the first book and I liked her even less in this book. In the mini-review I wrote, I said that I was pretty sure she'd grow on me. It didn't happen. I think the same things that I did in the first book. I think she's really snobby, a little too flippant, and boring. If fact, I kind of wish we were getting this story from Wesley's POV. Actually, if I'm thinking logically, it would probably be very boring if we were reading from Wesley's POV because Mackenzie is the one being targeted. Never mind.
One more thing about Mackenzie before we move on. Her entire character is very unreliable within this book. I like how Schwab handled it. She's having dreams that may or may not be real and she's on the brink of falling. She's so damn close to falling in this book. There are a lot of moments where it feels like it just might be the end for her, and it's those that were some of my favorite parts.
But I felt like her closure with the death of her brother and Da suddenly disappeared. They were a hugely central part of the plot in the first book and although there are hints of it here and there, I felt like the importance they had in the first book didn't hold the same amount of importance in The Unbound.
Obviously, I still like Wesley. I love Wesley. Wesley Ayers for president! His attitude is still just as great as in the first book and we learn just more about his personal history and character. He's just as funny and lovable as in The Archived. The only difference here is that in The Archived he was cute. But in The Unbound he was HOT. Like holy smokes.
The scenes between Mackenzie and Wesley in The Archived made me smile like an idiot because of how cute they were.
The scenes with them together in The Unbound made me scream. Into the book. Loudly. Wes acted hot. And it's not fair. Why can't he be my boyfriend?
The Unbound opens with Mackenzie's first day at a new school. We meet new characters that end up being her classmates. It's totally cool because some of them are genuinely great. Cash is hilarious. I wish some of them were a little more characterized but the most important ones are.
The plot itself was slow. It starts slow and doesn't pick up until later in the book. Even so, I felt like there wasn't much suspense and as a result, the amazing ending of the book fell flat for me. It ended up feeling a little flimsy. It's a lot like a mystery novel. Mackenzie has to pick up the clues while also avoiding getting caught. If she's caught, it might be the end for her because of her incredibly unstable mental state. In this way, I think this plot didn't click with me. I've never been much of a mystery fan. As a kid, I didn't like the Encyclopedia Brown books and the Cam Jansen detective books were always such a bore to me. So this "mystery-solving" type plot didn't really work for me. With the not-very-suspenseful chance of being caught, I just wasn't all that impressed.
However, the ending is still very dynamic! It sets up the third book very nicely and feels a little bit like a cliffhanger. It's a really good place to end the book because it makes me wonder what Schwab has in store for the third book. I'm pretty excited because even though I was a little disappointed by this one, overall, it's still good. And I need more Wesley Ayers.
Oh and one more thing! Once you finish the second book, you're pretty much free for any spoilers there may be for her short story! On her blog, Schwab posted a little short story from Wesley's POV that takes place a few hours after the end of The Unbound. I found it hilarious so definitely check it out! If you haven't read any of these books, do not read it! It'll spoil you for one of the funniest and cutest parts of The Unbound.
---
This wasn't the most organized review but I still think it came out okay. I've officially added Wesley Ayers to my list of book boyfriends. He's the best~
Even if I didn't absolutely love The Unbound, I'll still be reading the third book, if not for Mackenzie, then for Wesley.