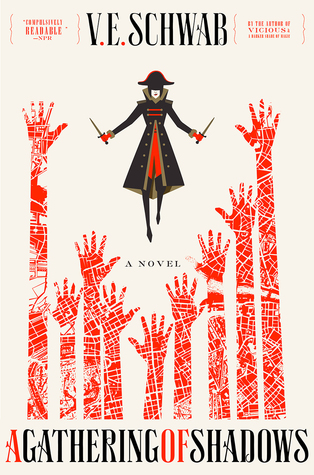 HAHAHA I MEANT TO PUT THIS UP LIKE FOREVER AGO AND IT OBVIOUSLY NEVER GOT FINISHED.
Yes, I'm alive! I found some time to finish up this post. Okay it was practically finished, but heyyy it's something during my immense periods of inactivity.
I have, however, found a great way to make this post relevant again, even if this happened like three to four months ago. 😀
I'll most likely get to meet V.E. Schwab, again on her book tour! Also A Gathering of Shadows is dropping in a little over a week from now, so even more reason to put this up!
Please note that all of this happened in late October, 2015. I also wrote most of this back then so it's written as if it's just happened. And. It clearly did not just happen because it's February of 2016. Oops.
---
If any of you guys have been following me for a while, you'll know that I'm a huge fan of V.E. Schwab's writing. I'm talking about the author of A Darker Shade of Magic, Vicious, The Archived, The Unbound. etc. I'm a freaking whore for her books. In a good way, obviously.
So imagine my immense happiness when I was told that SHE WAS COMING TO MY SCHOOL TO VISIT. I happened to be checking out The Near Witch at the time (which, ironically, is by her) and the librarian of our school told me that she was coming. I pretty much started fangirling uncontrollably and crying happy tears. Guys, I don't cry happy tears ever. EVER. It was kind of embarrassing but V.E. Schwab was coming. How could I not fangirl?
Fast forward a few days and then I'm being hit with the possibility of a mandatory orchestra rehearsal the day that V.E. Schwab is coming. Cue me worrying and actually raising my voice in that class to impose a death threat on anybody that makes us sound so awful we have to have a rehearsal. Obviously I wasn't serious but I felt the threat of not being able to see Schwab D:
Thankfully, it didn't happen and I did get to see Schwab! It was a major improvement from the last signing I went to, an event I briefly described in one of my Page Dancer Weekly Wrap-Ups.
What happened at the event? What was the event? I SHALL TELL YOU.
Every year my school library hosts a little mini-event after school called LitCon. Teachers get to set up booths about different genres and books they like to talk about and authors usually get invited to speak. The line-up this year included:
To be honest, these authors were all there but I only really paid attention to V.E. Schwab. In retrospect, I acted kind of unintentionally rude by practically ignoring all the other authors. I mean, I did acknowledge them but I think I went a little overboard in my interest in Schwab versus the other authors. I do however, think that Courtney Stevens is a really nice person! (And her voice is really nice too, just saying). I actually really guilty that I didn't pay more attention to Stevens because I legitimately do want to read Faking Normal and I felt like I was being so so rude. Ughhh too late to go back and fix that, unfortunately
When I arrived at LitCon, I immediately gravitated towards Schwab's table and did some… awkward nods and stuff. I was so awkward. Like I got a tote bag with a quote from The Archived, some bookmarks, and other stuff. I got my book signed. But I was an awkward fan that didn't know what to say. I went to visit the other tables because there was a huge crowd forming and it was starting to make me feel guilty about occupying space.
The good thing is that once the crowd cleared, I don't remember how, but I ended up standing at her table again. According to my friend, my body was subconsciously faced towards her table. I think I have a bad case of being a stalkerish fan XD
Along with my other friends, we pretty much stood at her table and just talked for like an hour straight. Up until the event ended. It was so great! We talked about her books, life, music (SHE'S LISTENED TO KPOP AND LIKES SOME OF IT, GUYS), author life, etc. etc. etc. It was just great! I think the best part, however, was talking about how to kill Eli, from Vicious. Obviously she didn't give it away, but she did say that it was much more simple than we we all made it out to be. One of my fabulous guesses was a papercut but she deemed that a little too simple to die from.
We took some fab pictures and god Victoria Schwab is so photogenic! I'm struggling with my messy hair and perpetually present eyebags (with the squinty eyes = stereotypical Asian lmaooo) but she just looks so put together! In my defense, school can make anybody look awful.
The last thing was that I was able to pick up some great swag! I got a tote bag for The Archived, some bookmarks, and another ADSOM poster that wasn't folded up.
I mean the entire experience was just a blur of excitement for me, but I'm extremely excited to say that I think I'll get another chance to meet her again! She's coming to my city for her A Gathering of Shadows tour, which I found really surprising. I was expecting the tour to hit the big cities and totally bypass my city because my town is just so small, comparatively. I really hope that nothing comes up so that I'll be able to go!
I'll also be able to meet Julie Kagawa and Gwenda Bond. Unfortunately I wasn't a huge fan of Kagawa's Iron Fey series but perhaps it's time to give it another try. I'm hoping I'll be able to read books by both of these authors before I attend the event D:
---
Um I feel kind of creepy tbh. I'm pretty sure I act like this when I fangirl to my friends but it's just so much more awkward when I write it down D:
Nevertheless, meet any great authors lately? Let me know!