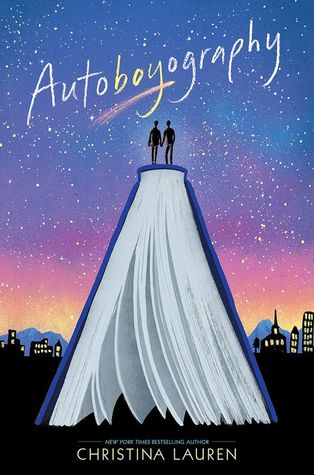 Autoboyography by Christina Lauren
Publication:  September 12th, 2017 by Simon & Schuster  
Number of Pages: 407
Genre: Young Adult, Contemporary, Romance
Source: Public Library
Rating: ★★★★★
---
Summary
Three years ago, Tanner Scott's family relocated from California to Utah, a move that nudged the bisexual teen temporarily back into the closet. Now, with one semester of high school to go, and no obstacles between him and out-of-state college freedom, Tanner plans to coast through his remaining classes and clear out of Utah.

But when his best friend Autumn dares him to take Provo High's prestigious Seminar—where honor roll students diligently toil to draft a book in a semester—Tanner can't resist going against his better judgment and having a go, if only to prove to Autumn how silly the whole thing is. Writing a book in four months sounds simple. Four months is an eternity.

It turns out, Tanner is only partly right: four months is a long time. After all, it takes only one second for him to notice Sebastian Brother, the Mormon prodigy who sold his own Seminar novel the year before and who now mentors the class. And it takes less than a month for Tanner to fall completely in love with him.
---
Review
"His smile ruins me."
Um. Excuse me. This book ruined me. Let's just say I haven't read a book that has engrossed me to this point in ages. This was a book that was I would I have read in one sitting if it had not been for other obligations.
But guysssssssssss.
The first thing that I want to get out of the way is that a lot of people have compared Autoboyography to Simon vs. the Homosapiens Agenda. I would definitely agree with these comparisons in the deft way both authors handled a LGBTQ romance just like a heterosexual one. Not only this, but the overall tone of both books were very positive. And yeah Tanner is a little like Simon, but snarkier and a little more sporadic. I would almost argue that I prefer Autoboyography over Simon although that is not to say one is objectively better than the other. The stories are different but similar and neither comparison should discredit the other.
But onto the good in this book!
Autoboyography is an incredibly character-driven book. The plot is quite minimal–it focuses almost exclusively on Tanner and Sebastian's growth due to their meeting and Seminar class. But in doing so, the characters are so good. Tanner is imminently relatable, Sebastian's growth is painful but rewarding, Autumn is flawed but lovable, all parents are well developed. The strength in its characters are what make the novel's message so effective.
The themes of Autoboyography are by no means special or novel. The message of acceptance for members of the LGBTQ is one that has been the hallmarks of great LGBTQ writing. But what makes Autoboyography special is the strength of the chemistry between Tanner and Sebastian. Part of the theme of acceptance stems from the idea that love is love is love. And nothing can possibly make love seem more convincing when it is undeniably right. From the very first scene with these two, the pages were crackling with their chemistry. Tanner and Sebastian may not be the endgame, but the attraction and love between them is the single strongest support of the book's message.
But it's not just the fact that the themes of LGBTQ self-acceptance are accepted, but that Tanner's identity as bisexual is so well-developed. But my favorite thing is that his sexuality isn't the central part of his personality. His personality was not "bisexual" but all the pieces that make it up. His wit, passions, intelligence, all of it was so real. Also Tanner is a hella good writer for all he says about not wanting to be in Seminar.
The development of all parts of the novel–the characters, setting, and plot are natural and organically built. As the book is developed, you can slowly see their town developing and growing in layers to become a real world around the characters. The plot, while not exciting as a fantasy novel may be, has fantastic pacing and character growth. And Tanner's slight changes and growth as a character are not groundbreaking, but prove that even the smallest realizations can cause massive changes in a person's perception of reality. Sebastian's self-growth, most of which happens off-page, is also handled in an extremely respective way; principles of Mormonism aren't bashed but instead respected.
I guess that the one aspect of the novel that seemed somewhat off was the epilogue, which had a time-skip to Tanner's time in college. Tonally, the novel didn't transition super smoothly between those scenes. However, it really is something that is super super nitpicky and didn't detract from the overall experience. Because that is what this novel was. An experience to simply watch Tanner and Sebastian's story unfold.
---
If it isn't obvious, I liked this book a ton. Like I have been shoving my library copy of it at all of my friends and have thus far, succeeded in making three other people read it. So here I am, virtually shoving a copy of it at you.
'til next time!
Kelly ❤