This post serves two purposes.
1. To warn all my followers about the posts that will be going up.
2.. To review everything I've heard about this book up until now.
1. If any of you don't know yet, I'm a high schooler. Obviously that means I take classes on a daily basis and do this as a hobby because I don't have time to expand my blog as much as I would like to.
Every semester in English I have to read a book off of a list in order to finish a book project. This time around, I decided to read Gone Girl. The project is due on the 6th, which means that between now and Thursday, a lot of posts about Gone Girl will be going up on my blog. I apologize in advance and wish to tell everybody that I will definitely be discussing spoilers within the novel. At the same time, I will be trying to stick to my regular blogging schedule although as I said in a blog update earlier, it will be difficult. Especially since I'll be trying to finish 10 posts on the side because I didn't plan on it.
And now onto part 2 of this post.
Gone Girl is an adult thriller novel released in 2012. It was adapted to the big screen in 2014.
I heard loads and loads about this novel earlier, especially since the movie released last year. I can't even begin to count the number of times that someone told me, "Oh that movie was really good! I didn't know that it was based on a book!"
The funny thing is that I can't even fathom trying to watch a movie without reading the book first. I almost always research a movie I might see prior to watching it. And no, I don't have high expectations for the movie because I'm generally unimpressed by cinematography.
Regarding the book itself, I've had two teachers tell me that Gone Girl would fuck with my mind. I've heard people say that the ending would enrage me or that the book would cause me to think that I myself am messed up. I'm already expecting the book to cause me intense feelings because I haven't heard a single negative thing about it. But at the same time, I'm expecting the book to grossly disappoint me because 99% of popular books don't sit well with me.
I'm going in completely blind. I think most people know what the book is about, but I kind of suck at keeping up with American pop culture. Especially movies. So I literally have no idea what the book is about.
So far, I really enjoy the book design. I got the copy that appears like this: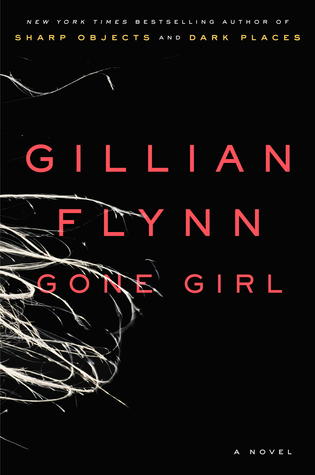 I really like the color scheme of the book itself. The book is black and it's flaps are neon orange. It's kind of distracting when I try to read the summary, but it's a really flattering design.
As for what I think the book is about…. uh some girl disappears? A girl flies off into the wind saying, "gone"? Maybe her hair is gone because it flies away with the wind. I have no idea.
What were your first impression when you first heard about Gone Girl?