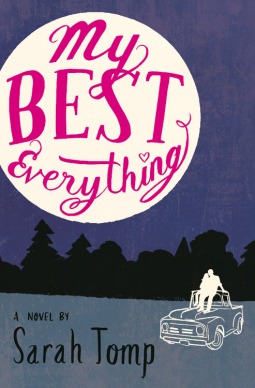 Author: Sarah Tomp
Series: None
Publication Date: March 3rd, 2015
Publisher: Little Brown Books
Number of Pages: 400
Genre: Contemporary, YA
Source: Netgalley
Links: Goodreads | Amazon | The Book Depository
---
Summary
You say it was all meant to be. You and me. The way we met. Our secrets in the woods. Even the way it all exploded. It was simply a matter of fate.
Maybe if you were here to tell me again, to explain it one more time, then maybe I wouldn't feel so uncertain. But I'm going back to the beginning on my own. To see what happened and why.
Luisa "Lulu" Mendez has just finished her final year of high school in a small Virginia town, determined to move on and leave her job at the local junkyard behind. So when her father loses her college tuition money, Lulu needs a new ticket out.
Desperate for funds, she cooks up the (definitely illegal) plan to make and sell moonshine with her friends, Roni and Bucky. Quickly realizing they're out of their depth, Lulu turns to Mason: a local boy who's always seemed like a dead end. As Mason guides Lulu through the secret world of moonshine, it looks like her plan might actually work. But can she leave town before she loses everything – including her heart?
The summer walks the line between toxic and intoxicating. My Best Everything is Lulu's letter to Mason – though is it an apology, a good-bye, or a love letter?
---
Review
I received this book from Netgalley in exchange for an honest review.
My Best Everything is a unique, coming-of-age story. Lulu, a smart high school graduate, eagerly awaits the day that she'll finally be able to leave her small town. After losing the ability to pay tuition, she decides to begin to sell moonshine with the help of her friends.
The book is written in a combination of 1st and 2nd person point-of-view. If I'm being technical, it's first person, but Lulu acts as if she is speaking to Mason the entire time. I was thrown off at first, but quickly adjusted.
A lot of my qualms had to do with the main character. I didn't really like Lulu. She's a little different from your typical YA protagonist. She reminded me a teensy bit of Emily from Since You've Been Gone by Morgan Matson in the way that both of them kind of begin to go outside of their little bubbles. On the first page, we get to hear about Lulu's first drinking experience. I'm all for a little bit of insanity but this escalated to a lot of other stuff?
Breaking the law? Driving without a license? Stealing?
Okay Lulu might say that she's smart, but a lot of her actions said otherwise. I was honestly fed up with some of the dumb crap she pulled. There has to be a smarter way to make money. She jumped to conclusions, assumed she knew things about others, when she didn't, gets her boyfriend into deep shit, etc. etc. etc.
I also thought that her narration made her sound like an old lady. She sounds overly nostalgic, as if she is thinking about her life as a sixty-year-old or something. It sounds regretful, old, and really out-of-character with the personality she describes. I thought that her narration didn't mesh well with the story but that might just be me.
I didn't really connect with any of the characters to be honest. I will say that they are all characterized very well.
On the other hand, this book is way different from anything else I've read. It combines a lot of different ideas to form a nice summer read. You can practically feel the summer wind and smell the mash of the moonshine. If there is one thing that I can take away from this book, it's the fantastic tone and imagery. It's so easy to imagine everything in this book.
"While she talked, I watched the river between the trees. The river is the one part of Dale that moves. It's a sign of hope and something better in the great beyond. The moon shone on the river, all silvery shimmer, the water rushing on while the moonlight stayed in one place. The moon couldn't let go and roll along with the current." (ARC Chapter 6)
I think that the great imagery was something that ended up affecting the connection of Lulu and story. Lulu has this really lyrical, smooth narration that is completely different from how she acts.
Story-wise, it was slow. I didn't mind at all; I thought it was appropriate to the story. Instead of making it feel really boring, like many books, it took this pacing and molded it with the lazy, hopeful days of summer. The thing that did kind of bother me was the ending. It felt kind of anticlimatic and overly dramatic and combined with Lulu's narration, you end up being caught between two different possibilities for the end. The entire book, I thought that Mason either died or Lulu and Mason broke up really bitterly. Of course, I'm not going to spoil the ending, but those were just what I ended up feeling the whole book.
3/5 Stars