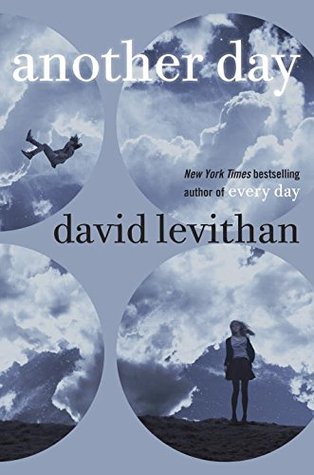 Another Day  by David Levithan
Series: Every Day #2
Publication: August 25th 2015 by Alfred A. Knopf Books for Young Readers
Number of Pages: 300
Genre: Contemporary, Romance, Sci-fi/Fantasy???
Source: Netgalley
Rating: ★★
Goodreads | Amazon | The Book Depository
---
Summary
The eagerly anticipated companion to David Levithan's New York Times bestseller Every Day

In this enthralling companion to his New York Times bestseller Every Day, David Levithan (co-author of Will Grayson, Will Grayson with John Green) tells Rhiannon's side of the story as she seeks to discover the truth about love and how it can change you.

Every day is the same for Rhiannon. She has accepted her life, convinced herself that she deserves her distant, temperamental boyfriend, Justin, even established guidelines by which to live: Don't be too needy. Avoid upsetting him. Never get your hopes up.

Until the morning everything changes. Justin seems to see her, to want to be with her for the first time, and they share a perfect day—a perfect day Justin doesn't remember the next morning. Confused, depressed, and desperate for another day as great as that one, Rhiannon starts questioning everything. Then, one day, a stranger tells her that the Justin she spent that day with, the one who made her feel like a real person . . . wasn't Justin at all.
---
Review
I received this book from Netgalley and the publishers for free in exchange for a review. This does not impact my opinions and review in any way.
I'm not entirely sure why I requested this book. I didn't like the first book at all. In fact, it gave me a headache.
Another Day is pretty much Every Day from Rhiannon's point-of-view. I don't really get why Levithan decided to write it from Rhiannon's perspective, especially since it was so bland. There's nothing interesting enough about Rhiannon to really warrant the book from her point-of-view!
The main difference between Another Day and Every Day was that since Another Day was focused on Rhiannon, we got to see more of the dynamics between Rhiannon and her boyfriend. There's a lot of problematic things with the romance in this novel. I don't like how it's portrayed whatsoever.
For one, Rhiannon plays the part of the weak female character that's in love with a boy that doesn't reciprocate the same way. The relationship is borderline abusive (in my opinion) and the prickliness of Justin isn't attractive. It's not meant to be but I didn't like that Rhiannon had to meet A to realize that the relationship wasn't working out. However, just because she is having an unsatisfactory relationship with Justin, doesn't mean that it's okay to cheat on him. Rhiannon notes later in the book that she doesn't consider her relationship with A to be cheating, when it clearly is. It's an incredibly unorthodox form of cheating but it is.
CAN I ALSO SAY THAT I HATE RHIANNON? AND A. In this book, A is much more unlikable than he is in Every Day. He comes off as a clingy bastard that just can't take the answer no. Rhiannon says that she needs time to think, and A does give her that! But then he'll go on to continuously beg her to say yes, to stay with him, to sacrifice everything for him. At least Rhiannon has her head screwed on right because she knows that it's unfair to the person that occupies the body and that it's not right for them to do that. But A just doesn't get it! He's mopey, clingy, inconsiderate, UGH. I shudder just thinking about it.
On a similar regard, Rhiannon is just as clingy as A but on top of that, she's a spineless character. She bends to the will of any boy that she likes and almost never has her own opinion. I hated her listless state that spanned from the beginning to the end of the book. Everything she does and plans depends on her boyfriend, Justin, or A. EVERYTHING. The only saving grace for her character was that she started to grow as a character towards the end of the book. It's too late of a change for me to actually like her but it's worth noting that it does happen.
(If you haven't noticed, if there's one thing I abhor, it's clingy people. JUST STAHP. I HATE IT.)
Everything about the relationship between Rhiannon and A bothered me. While I love the idea that David Levithan created, I just didn't like the execution! I like that this concept strips down a character's physical appearance and forces us to wonder if we'd like them only based on personality. It's a great way for us to think about if physical appearance, sexual identity, gender identity, etc. really matters when it comes to friendship and love. This theme is prevalent throughout A and Rhiannon's relationship and in Justin and Rhiannon's relationship. Rhiannon sounds like a complete jerk throughout the book when she realizes that identity of A matters to her but I think I can sort of relate to her in that regard.
But yeah, the execution was messy. It's a great idea but what ended up happening was that the ethics of their relationship in regard to the person that A occupies is ignored for almost the entire book. It is briefly mentioned in passing but the opinion that Rhiannon has is extremely selfish. Instead of wondering if it'd be okay for the person that A occupies to do something, she compares it to herself and everything she wants. It's selfish and I disliked it.
Another nit-picky thing that I want to mention is that I really, really wish that Rhiannon's friends were more developed. We briefly get to see them but since Rhiannon is so detached, we don't get to know them very well.
Other than that (and like everything else I complained about), the writing was really nice! It flowed well and really showed what was happening in a way that fit the overall mood of the book and Rhiannon's character.
---
This is one of the hardest reviews I've had to write in an extremely long time >.<

It felt like I was trying to push out my opinions out of a void of incoherent thoughts! I even took notes for this one but I just couldn't get my thoughts out in a way that flowed right. So here, have this somewhat deflated review.
This one didn't work for me but I think I might have liked it a smidgen more than I liked Every Day. By the way, if you're friends with me on Goodreads, I do not suggest you read my blurb of a review for Every Day. Please don't.
Are any of you guys Levithan fans? If so, what were your favorite books by him? I feel like I'm missing some of his best books by only reading this series!