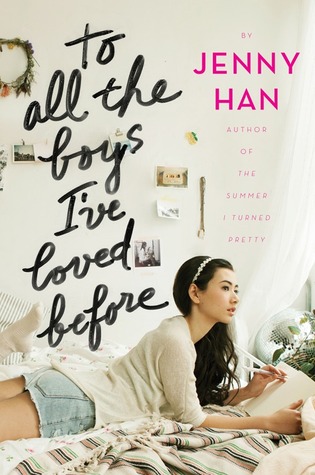 Author: Jenny Han
Series: To All the Boys I've Loved Before #1
Publication Date: April 15th, 2014
Publisher: Simon & Schuster Books for Young Readers  
Number of Pages: 288
Genre: Contemporary, Romance
Source: Public library
Links: Goodreads | Amazon | The Book Depository
---
Summary
To All the Boys I've Loved Before is the story of Lara Jean, who has never openly admitted her crushes, but instead wrote each boy a letter about how she felt, sealed it, and hid it in a box under her bed. But one day Lara Jean discovers that somehow her secret box of letters has been mailed, causing all her crushes from her past to confront her about the letters: her first kiss, the boy from summer camp, even her sister's ex-boyfriend, Josh. As she learns to deal with her past loves face to face, Lara Jean discovers that something good may come out of these letters after all.
---
Review
Fun Fact: This book was one of the first ones I added to my TBR on Goodreads.
I didn't like Jenny Han's writing when I read My True Love Gave to Me (review here) and I still don't. In fact, her short story was my least favorite out of all of the ones in the book.
Her writing is kind of dry, choppy, and disconnected. I don't like. It reminds me a lot of We Were Liars (review here) and I really hated that book.
Even if I didn't like the writing style, by the time I had gotten into the flow of the book, I had just matched it to the personality of Lara Jean. Who, by the way, kind of annoyed me.
Lara Jean is a kind of quirky, naive, soft-spoken character. She's… bland and unreasonable. I really didn't like her personality or her decisions. I found her opinions and overall character really annoying and whiny. It really pissed me off that she acted like she knew everything about love. If she actually acted reasonably, maybe her issue would have been fixed.
The romance was a flawed, love-hexagon (?). Obviously her letters were mailed to each of their respective ex-crushes. Only two of them are addressed in depth and I kind of wish Han had talked more about the other boys.
The two main contenders for Lara Jean's heart are Peter and Josh.
Josh is the boy next door. The guy that stole her sister's heart and got his own broken. At the beginning of the book, Margot breaks up with him. Lara Jean becomes hopeful that maybe, just maybe she can have a chance for once. But at the same time, she battles her inner conscience that screams that Margot has a claim on Josh and that she always will.
(Side tangent: Why the hell do all three Song sisters love Josh?! He might have been a good family friend but Kitty is like 8! Why does she have a crush on a teenage guy?! I found it ridiculous that all the drama stemmed from the rivalry of the sisters. I thought that it was kind of unrealistic that the one thing that caused conflict between the sisters was Josh. The Song sisters are supposed to be really close but all it takes is a guy for them to betray each other.
But whatever, I didn't like them anyways. I especially hated Margot.)
Peter was Lara Jean's first kiss. He receives his letter shortly after he breaks up with his girlfriend and cockily confronts Lara Jean. Later, in a panicked decision to save face, Lara Jean claims that she is dating Peter. The two agree to engage in a fake relationship. Peter agrees, if only to make his ex-girlfriend jealous. But what happens if Lara Jean falls for Peter instead?
Both love interests are given more depth… sort of. If anything, at least Peter becomes more likable by the end.
Now there was almost no insta-love in this book. There is an established history for both characters but what irked me in this was the way that Lara Jean suddenly decides that she loves Peter instead of Josh.
WHEN DID SHE FALL IN LOVE WITH HIM?
Teen romance has never been more confusing.
I'm deeply unsatisfied by the ending. What happens with Peter huh? Now that both Lara Jean and Peter have professed their love for each other, everybody thinks that Lara Jean is a slut and that the two had sex. She writes a letter to him. The book ends.
No. I want more. I have to know if she ends up fixing her problems.
2.5/5 Stars